The 1066 Year of The Three Kings Gold Sovereign Set
A key turning point in history captured in three stunning gold sovereigns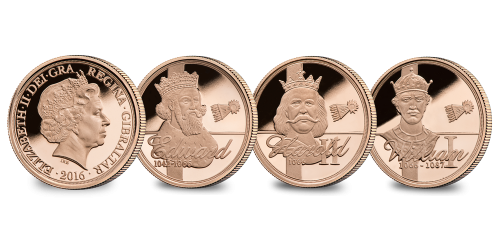 1066 3 Kings Sovereign Set
An exclusive set to commemorate the 950th anniversary of the year of the 3 Kings in 2016
Strictly limited edition of only 335 sets – 335 is the number of days between the reigns of the 3 Kings.
Struck to Proof Quality
22 Carat Gold
Exclusive "Halley's Comet" privy mark
Type:

Single

Availability:

Sold Out!
Notify me when the product will be available.
This three sovereign coin set celebrates a pivotal year in our history - 1066 when Harold succeeded Edward the Confessor and was then removed from the throne by William, Duke of Normandy.
In the space of 12 months, England had not only had three different kings but had fallen under the power and influence of the Normans - a warrior tribe who would transform their new land's culture, politics, landscape and language. England would never be the same again.
Crafted in 22 carat gold each gold sovereign features a magnificent portrait of the respective king capturing their character and personality. Edward's piety and political chicanery, Harold's rugged single-mindedness and the icy ruthlessness of William.
Limited to just 355 sets available worldwide this exceptional set of three sovereigns has been struck to the highest possible proof quality. Each gold sovereign carries a very special privy mark unique to this collection which verifies its limited edition status.The privy mark depicts the Halley Comet, silent witness of the year 1066, in a design inspired by the Bayeux Tapestry which depicts the comet.
Remembering one of history's great turning points, the 1066 Year of Three Kings Gold Sovereign Set is delivered with full official documentation authenticating its limited issue status and gold content.
Specifications
Metal:

Gold (22 carat)

Quality:

Proof

Weight:

7.98 grams

Diameter:

22mm

Issuing Authority:

Gibraltar

Denomination:

Sovereign

Year of issue:

2016

Mintage limit:

355