Complete 2015 Krugerrand Set with Battle of Britain Privy Mark
Issued by The South African Mint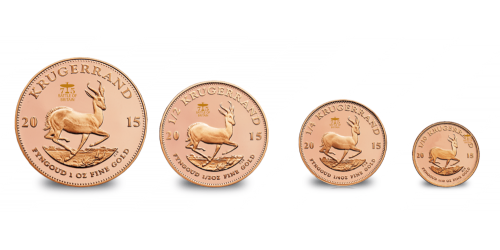 Complete Krugerrand Set with Battle of Britain Privy Mark
World first: the complete set of four Krugerrand denominations - the one ounce, one-half ounce, one-quarter ounce and one-tenth ounce Krugerrand coins each with '75 Anniversary Battle of Britain' Mint Mark.
Exclusive 'One Year Type' issued by The South African Mint, struck to Proof condition and limited to just 250 sets worldwide.
Type:

Single

Availability:

Sold Out!
Notify me when the product will be available.
Marking 75 years since Britain won the battle for air supremacy; the South African Mint honours the victory that changed the course of World War Two and with it the course of history.
The Battle of Britain is remembered as our nation's finest hour, and the 15th of September has been officially named Battle of Britain Day - it was on that day, in 1940, that RAF Fighter Command claimed what proved to be a decisive victory over the German Luftwaffe. In remembrance of all those who played their part in the Battle of Britain the South African Mint has issued a unique 4 coin Krugerrand set.
The complete 'One Year Type' Gold Krugerrand Set
This special edition four coin set compromises the complete set of Krugerrand denominations– the one ounce, one half ounce, one quarter ounce and one tenth ounce Krugerrand coins.
Each gold coin features the unique '75th Anniversary Battle of Britain' mint mark applied at the time of minting. This mint mark only features on this special anniversary issue of gold Krugerrands, which makes this set a 'One Year Type' - precisely the type of coins most in demand by collectors.
Fittingly one of the RAF's leading aces, and one of the highest scoring pilots during the Battle of Britain, was a South African - Adolph "Sailor" Malan. Malan commanded the highly important Fighter Command base at Biggin Hill and under his leadership No. 74 Squadron became one of the RAF's best units. Malan was suitably rewarded when he was awarded the Distinguished Flying Cross (DFC) for his leadership and bravery.
Limited Edition - just 250 sets issued worldwide
The South African Mint creates just a small number of limited edition proof Krugerrands each year, even fewer of these are allocated a special Mint Mark.
With its low edition limit of just 250 worldwide, this Gold Krugerrand set is only available in the UK from The London Mint Office.
This special anniversary set with '75 Battle of Britain Mint Mark', struck to the highest possible Proof quality, is certain to be highly sought after by collectors. The set is supplied in an official South African Mint wooden case together with a Certificate of Authenticity, and booklet about Adolph 'Sailor' Malan - the 'flying Springbok of British wartime skies'.
A stunning numismatic tribute in honour of all those who contributed to Germany's defeat at the Battle of Britain.
Specifications
Issuing Authority:

The South African Mint

Metal:

22 carat gold

Denominations:

1/10 ounce 1/4 ounce, 1/2 ounce and 1 ounce

Weight:

Total weight: 62.77g

Special Features:

World First 'One Year Type' minted to mark the 75th Anniversary of the Battle of Britain

Maximum Mintage:

250

Year of Issue:

2015

: