The Battle of Britain 75th Anniversary ¼ and ½ Sovereign Set
Struck in association with The Royal Airforces Association - Flown in a Wartime Spitfire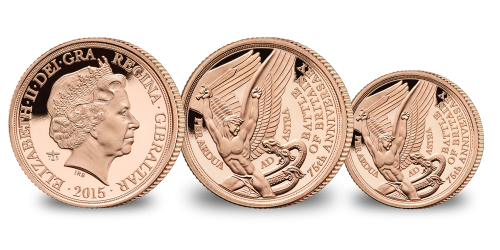 The Battle of Britain 75th Anniversary Quarter and Half Sovereign Set
The official Battle of Britain Gold 1/4 and 1/2 Sovereigns presented together in one set
Issued by The Royal Airforce Association
Struck to the highest quality Proof finish in 22 carat gold
Just 850 flown in a spitfire on the 75th Anniversary of the Battle of Britain
Type:

Single

Availability:

Sold Out!
Notify me when the product will be available.
Flown on the day: To mark the occasion, of the 75th Anniversary of The battle of Britain The Royal Air Forces Association and The London Mint Office arranged a very special Battle of Britain commemorative flight by a wartime Supermarine Spitfire, surely one of the most iconic aircraft in military history.
The Spitfire took off from RAF Biggin Hill on 14th September 2015 with a unique cargo on board - a cache of gold sovereigns including this set of Battle of Britain 75th Anniversary 1/4 and 1/2 Sovereign.
Exclusive Mint mark: Features the exclusive 75th Anniversary Flight privy mark, verifying that this sovereign flew over the skies of Britain to mark the 75th Anniversary of the Battle of Britain.
Strictly Limited: Only 850 of these sets have flown in the Supermarine Spitfire on 15th September, the day of the 75th anniversary of The Battle of Britain.
Quality: Struck to Proof quality, the highest quality available
Stunning Design: The symbolic reverse design is taken from the 'Wings for Victory' plaque, depicting a male figure grappling with a three-headed serpent. Each of the three heads represents the three major axes during WWII. The Obverse features a portrait of Her Majesty Queen Elizabeth II by Ian Rank-Broadley.
Specifications
Metal:

22 carat gold

Quality:

Proof - the highest possible

Weight:

1.99g and 3.99g

Diameter:

13.50mm and 19.30mm

Issuing Authority:

The Government of Gibraltar

Denomination:

Quarter and Half Sovereign

Year of issue:

2015

Mintage limit:

850