The Official Battle of Britain 75th Anniversary Gold Sovereign Set
Struck in association with The Royal Airforces Association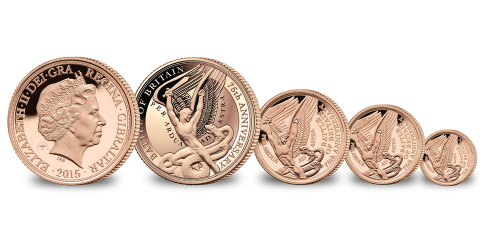 The Battle of Britain 4 Gold Sovereign Set
This spectacular set comprises the complete sovereign family - a quarter, half, full and double sovereign, each struck to proof quality and in solid 22 carat gold.
Limited Mintage – only 199 sets available worldwide
Struck in Proof Quality
Commemorate the 75th Anniversary of the Battle of Britain in 2015
Exclusive Battle of Britain Privy Mark
Features the symbolic 'Wings for Victory' design
Type:

Single

Availability:

Sold Out!
Notify me when the product will be available.
Issued to commemorate the 75th Anniversary of the Battle of Britain this very special series of gold sovereigns has been minted in partnership with the Royal Airforces Association.
This spectacular set comprises the complete sovereign family - a quarter, half, full and double sovereign, each struck to proof quality and in solid 22 carat gold, and features and the exclusive privy mark of a 1940 spitfire with the inscription 'Battle of Britain'.
The reverse features the symbolic 'Wings for Victory' plaque, depicting a male figure grappling with a three-headed serpent. Each of the three heads represents the three major Axis Powers during the Second World War.In the design, you'll see the motto of the Royal Air Force, PER ARDUA AD ASTRA ('Through adversity to the stars'), encircling a winged figure about to strike a three-headed serpent. The figure represents the strength of the Allies, while the three heads symbolise the three Axis powers - Germany, Italy and Japan.
Struck in solid 22 carat gold, the traditional purity of all gold sovereign coins, the obverse of each sovereign features a portrait of Her Majesty Queen Elizabeth II by Ian-Rank Broadley. The Battle of Britain four coin sovereign set is a fitting 75th Anniversary tribute to the heroes of Battle of Britain.
Specifications
Metal:

.916 - 22 Carat Gold

Finish:

Proof

Weight:

1.99g| 3.99g| 7.98g| 15.97g

Diameter:

13.50mm| 19.30mm| 22.05mm| 28.40mm

Issuing Authority:

The Government of Gibraltar

Denomination:

¼| ½| Full | Double Sovereign

Year of Issue:

2015

Limited Edition:

Only 199 sets available worldwide