The California Gold Rush Set
The $1 and $2½ Gold Coins minted 1850-1854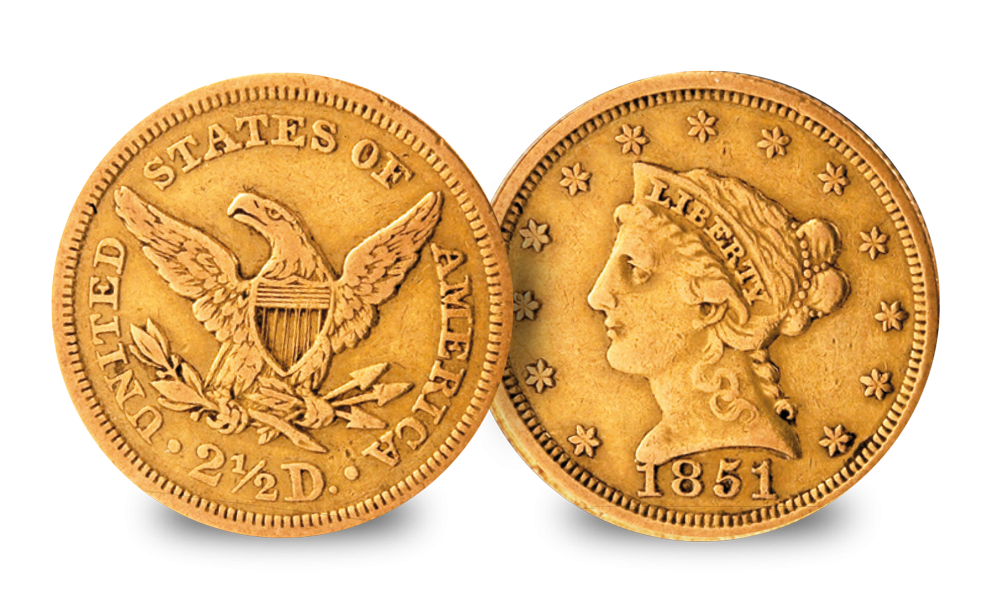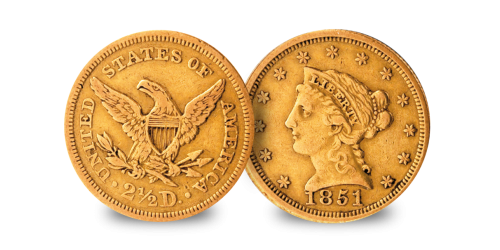 Sold Out!
California Gold Rush Set $1 & $2.50 1850-1854
A set of two rare US coins
Highly historic original coins minted 1850-1854
Unique pieces from the time of the California Gold Rush
Type:

Single

Availability:

Sold Out!
Notify me when the product will be available.
In the early 1800's during the first gold rush of the United States a coin was born – the first ever $1 gold coin. However, it wasn't until March 1849 in the 2nd gold rush that the gold dollar entered into the rare coin market. 
The $1 gold coin was designed by James B. Longacre who was the U.S Mints chief engraver. With a diameter of just 13mm, all that could be depicted on the reverse are the words '1 DOLLAR' along with the date and a wreath. This is surrounded by the words: 'United States of America'. These gold dollars were extremely rare and produced for just six years. 
The Liberty Head $2.50 Gold Quarter Eagle coins were struck at several mints across the United States, which included Philadelphia, Charlotte, Dahlonega and New Orleans. These coins were also a result of the California Gold Rush . The 'coronet head' Liberty by Gobrecht was modelled on a figure of Venus from the painting Omnia Vincit Amor by American artist Benjamin West. It showed Liberty facing left, hair tied in a bun secured by a string of beads and wearing a coronet inscribed LIBERTY. The design holds the record for the longest continuous period of production of any design on US coinage.
Both of these coins are rare because they were not saved in substantial quantities, and most have been lost or melted, therefore, securing this set allows you to be in possession of a truly remarkable piece of America's Gold Rush history.
Specifications
Metal:

Gold (0.900)

Country of issue:

United States of America

Year of issue:

1849-1854

Denomination:

1 dollar | 2.5 dollar

Weight:

1.7g | 4.18g

Diameter:

12.7mm | 18.00mm

Designer:

James Barton Longacre | Christian Gobrecht

Design:

Liberty Head

Grade:

Very Fine