The Churchill Gold Krugerrand & Silver Commemorative Coin Set
Issued by The South African Mint in honour of Sir Winston Churchill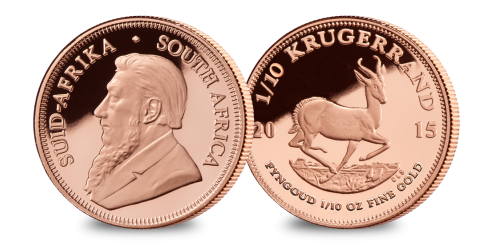 Churchill 1oz Silver Medal & 1/10 oz Gold Krugerrand
The Churchill Gold & Silver Commemorative Set commemorates Winston Churchill and his service in South Africa
Set comprises a tenth-ounce 22 carat gold Krugerrand Coin and a full 1oz .925 sterling silver medal
Struck by The South African Mint in 2015 to commemorate the 50th anniversary of Churchill's passing
Limited Edition of just 250 sets worldwide
Presented in an elegant presentation case etched with a portrait of young Churchill, with numbered Certificate of Authenticity
Type:

Single

Availability:

Sold Out!
Notify me when the product will be available.
2015 marked the 50th anniversary of the passing of Sir Winston Churchill. Regarded as our greatest wartime leader, he inspired the nation to 'defend our island home' and 'never surrender', even during the bleakest days of WWII. In honour of this great statesman's life and work, a unique commemorative set has been issued in 2015 by The South African Mint.
This set combines a tenth ounce Gold Krugerrand Coins and a 1 ounce Sterling Silver medal
The name 'Krugerrand' derives from the Boer leader Paul Kruger who is depicted on the coin's obverse. Kruger was president of the South African Republic between 1883 and 1902 and was honoured on the krugerrand coin.
The South African krugerrand, introduced in 1967, was one of the first gold bullion coins to be produced, and its success inspired many other countries to mint their own gold bullion coins, including the Canadian Gold Maple Leaf, the American Gold Eagle and the British Britannia. The krugerrand was also a legal tender coin - consequently, it was minted using a 22 carat gold alloy to ensure its durability. This is the same alloy used in British gold sovereigns and is often referred to as 'crown gold'.
The silver medal marks the fascinating early career and achievements of this world statesman-in-waiting – specifically his exploits in South Africa during the Boer War of 1899-1900. Churchill covered the Boer conflict as a war correspondent in 1899, was captured and escaped from a POW camp in Pretoria, then took part in the capture of Pretoria as an officer in the Light Horse, returning to Britain a hero. His new-found fame furthered his political success back home and helped to win his seat in parliament as MP for Oldham at the 1900 General Election.
The beautifully crafted silver medal shows on its obverse a portrait of a young Churchill in the uniform of the South African Light Horse Regiment, from a photograph taken in 1900 around the time of the relief of Ladysmith. The regiment's symbol of a military cross, the abbreviation SALH and the years of its foundation, 1899 feature on the reverse of the medal, while the ship depicted is RMS Dunottar Castle, which took Churchill to Cape Town.
Specifications
Issuing Authority:

The South African Mint

Year of issue:

Struck in 2015 to commemorate the 50th anniversary of Churchill's passing

Quality:

Proof, the highest possible quality

Krugerrand :

1/10 Ounce - one tenth of an ounce

Krugerrand :

22 Carat Gold

Krugerrand Weight:

3.393 g

Krugerrand Diameter:

16.5mm

Churchill Medal:

925 Silver

Medal Weight:

33.626g

Medal Diameter:

38.725mm

Mintage limit:

250