The Empire Collection - nine coins for nine monarchs
A stirring record of Britain's imperial past celebrated on a series of 24 carat gold coins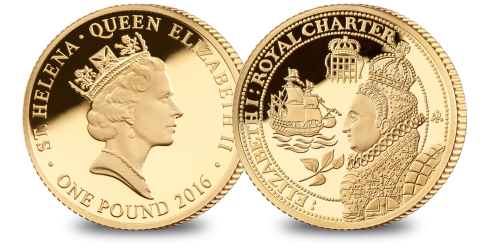 The Empire Collection - Elizabeth I
A stunning collection of gold coins that reflects the golden age of British Empire
Tells the story of the East India Company through nine magnificent 24 carat gold coins
Limited to 500 editions worldwide
Type:

Collection

Availability:

Sold Out!
Notify me when the product will be available.
The Empire Collection celebrates the history of the East India Company. Tracing the evolution of this hugely significant global institution and the monarchs who presided over its 250-year history - a stirring record of Britain's imperial past.
This is a collection befitting one of the most powerful and influential institutions that the world has ever seen. For nearly 300 years, the East India Company helped transform Britain into the world's premier trading nation and spread British influence to all corners of the globe. Such was its status that it had its own fleet, imposed its own taxes and even created its own currency, the design and iconography of which are recalled in each of the nine coins in this collection.
Each of the nine 24 carat gold coins in The Empire Collection reflects the designs and minting techniques used in the monarch's coinage at the time of their reign. The set begins with the Queen Elizabeth I Gold Coin which recalls the launch of the Company in 1600 when Elizabeth I signed a Royal Charter granting it a monopoly on trade with all countries east of Cape Good and west of the Magellan Straits. This coin echoes a golden period in British history following the defeat of the Spanish Armada in 1588, when the nation embarked on a new era of adventurism and colonisation. Depicting Elizabeth herself in profile the coin skillfully emulates the style and appearance of late Elizabethan coinage
Nine coins, nine monarchs - By the time Victoria became Queen in 1837, the East India Company controlled half of all global trade and effectively ruled the Indian subcontinent. As you collect each coin in The Empire Collection, the company's colourful and often tempestuous story will become ever more vivid. You will receive the remaining eight coins in this collection, each of them on approval and without obligation, at monthly intervals at the same guaranteed price.
Only 500 editions have been struck worldwide.
Specifications
Metal:

0.9999 AU GOLD

Quality:

Proof - the highest quality possible

Weight:

8 Grams

Diameter:

25 mm

Country of issue:

Saint Helena

Denomination:

£1

Year of issue:

2015

Mintage limit:

500