The Empire Collection - nine coins for nine monarchs
A stirring record of Britain's imperial past celebrated on a series of 24 carat gold coins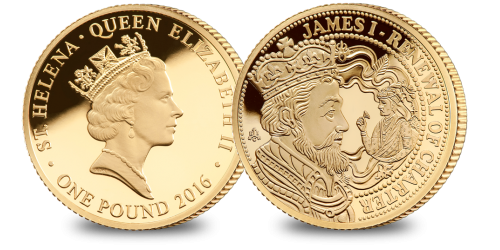 The Empire Collection -James I
Beautifully crafted gold coin tells the story of the rise of the East India Company and the British in India
24 carat gold coin
Struck to the highest possible proof quality
Extremely Limited Edition of just 500 worldwide.
Type:

Collection

Availability:

Sold Out!
Notify me when the product will be available.
The Empire Collection celebrates the history of the East India Company. Tracing the evolution of this hugely significant global institution and the monarchs who presided over its 250-year history - a stirring record of Britain's imperial past. The Empire coin series tells the story of the rise of the East India Company and the British in India, the role of the most significant Monarchs that ruled and the subsequent events that created British rule in India from Elizabeth I to Queen Victoria becoming Empress of India.
This set begins with The James I Gold Coin
It features a depiction of the King himself. Although James's accession marked the advent of a new royal house - the Stuarts - and the beginning of a new era in British history, he shared wholeheartedly Elizabeth I's enthusiasm for the East India Company and backed its expansion under its first Governor, Sir Thomas Smythe. In 1609 James renewed the Company's charter and monopoly to trade in the East for an indefinite period so long as it remained profitable along with building the company's first official factory in India. The King's insatiable appetite for money was clear.
Nine coins, nine monarchs
As you collect each coin in The Empire Collection, The East India Company's colourful and often tempestuous story will become ever more vivid. By ordering the James I Gold Coin, you will receive the remaining eight coins in this collection, each of them on approval and without obligation, at monthly intervals at the same guaranteed price.
Only 500 editions have been struck worldwide.
Specifications
Metal:

24 Carat Gold

Quality:

Proof

Weight:

8 grams

Diameter:

25mm

Country of issue:

St. Helena

Denomination:

One Pound

Year of issue:

2015

Mintage limit:

500 collections world wide