The 2016 Royal Mint 1/2 Sovereign presented for the first time in a Gold Bar
Part of the Magnificent 7 Collection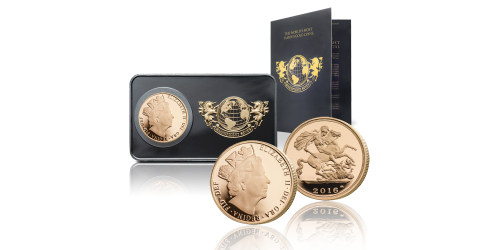 Magnificent 7 - The 2016 Royal Mint 1/2 Sovereign in Bar
The 2016 British Half Sovereign Gold Coin
Presented for the first time ever in an exclusive limited edition collector bar layered in pure 24 carat black and yellow Gold
Featuring the celebratory portrait of The Queen by James Butler - this portrait will appear for one year only on Proof 2016 Sovereigns

Type:
Collection
Notify me when the product will be available.
The 2016 British Half Sovereign Gold Coin
This year the British Half Sovereign holds particular significance as The Queen celebrates her 90th birthday, and becomes Britain's oldest reigning monarch. Now available is the 2016 British Half Sovereign -featuring the celebratory portrait of The Queen by James Butler. This portrait will appear for one year only on Proof 2016 Sovereigns. 
Presented for the first time ever in an exclusive collector bar 
Limited to only 1,000 worldwide – just a fraction of the regular coin edition, each collector bar is layered in pure 24 carat black and yellow Gold.

The world's most famous gold coins from the leading mints of the world.
When you order the British Half Sovereign Coin you will also have access to the complete set of the world's most important gold coin issues - this collection bears the name 'Magnificent Seven'
The Magnifcent Seven is the result of a unique cooperation between the mints of Australia, Great Britain, Mexico, Canada, USA, China and South Africa. Each mint has made available their most beautiful and valuable coins - each coin a masterpiece in itself - for this extraordinary collection.
The Magnificent Seven coin set reads like a 'who's who' in gold coin minting. In addition to the 2016 British Half Sovereign, you will also find the 30th anniversary American Gold Eagle, the South African Krügerrand, and the Canadian Maple Leaf, to be joined by the Chinese Panda, the Australian Gold Kangaroo and the Mexican Libertad - repeatedly voted the world's most beautiful coin.
Each of the coins is presented in the same limited edition collector coin bar as the British Half Sovereign with the same low worldwide edition limit of only 1,000. And each collector coin bar is layered in pure 24 carat black and yellow Gold.
By ordering the 2016 British Half Sovereign Coin Bar you will receive each of the remaining six coins in the Magnificent Seven Set at convenient monthly intervals for just £295 (+ £4.95 P&P) each, entirely on approval and without obligation.
FREE Collectors' Folder 
As part of your collection you will receive a Certificate of Authenticity and an informative Collectors' Folder with your 2016 British Half Sovereign Coin Bar - COMPLETELY FREE.
Specifications
Metal:

22 carat Gold (916/1000)

Quality:

Proof

Weight:

3.99 grams

Diameter:

19.30mm

Issuing Authority:

The Royal Mint - United Kingdom

Denomination:

Half Sovereign

Year of issue:

2016

Mintage limit:

1,000 coin bar sets worldwide