The 2015 Mexico Gold Libertad Set
Contains all five Proof Gold Libertad Coins - a total of 1.9 oz of .999 fine Gold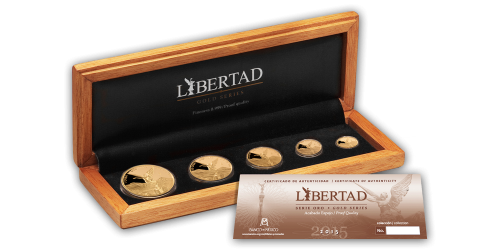 Mexico Gold Libertad Set 2015
The 2015 Mexico Gold Libertad Set
Contains a total of 1.9 oz of .999 fine Gold

Combines all 2015 Proof Gold Libertad Denominations in just one set.

Packaged in plastic capsules and presented in a high-quality wood presentation box.

Each set includes a serial-numbered certificate of authenticity.

Guaranteed by Banco de México.
Type:

Single

Availability:

Low
Price: £ 3,490
This 2015 Proof Gold Libertad set of five coins contains all the fractionals of the Libertad - the one, half, quarter, tenth and twentieth of an ounce coins.
Combined these 5 coins add up to a total of 1.90 ounces of .999 fine Gold
Widely regarded as one of the world's most beautiful coins, the Mexican Libertad is minted at the oldest mint in the western hemisphere – Casa de Moneda de Mexico. The obverse of the round features a "Winged Victory", specifically, the Angel of Independence and symbol of Mexico City. In her right hand, she holds a laurel wreath which symbolises Victory, while in the other is a broken chain which symbolises Freedom. She stands atop a victory column with the mythic Mexican volcanoes Popocatépetl and Iztaccihuatl in the background. The reverse design shows the current Mexican Coat of Arms encircled by previous versions of the Mexican Coat of Arms.
This 2015 Proof Gold set of five coins comes in a custom wooden box with a numbered certificate of authenticity. The Casa de Moneda de Mexico has also included a small booklet containing historical data about the Mexican Mint and the history of the Libertad Coin. A must have for any collection.
Specifications
Metal:

99.9% Gold

Quality:

Proof

Weight:

Combined these 5 coins add up to a total of 1.90 ounces of .999 fine Gold

Diameter:

34.5mm| 29mm| 23mm| 16mm | 13 mm

issuing Authority:

Casa de Moneda de Mexico

Denomination:

1oz| 1/2oz| 1/4oz| 1/10oz| 1/20oz Libertad

Year of Issue:

2015

Limitation:

500 sets worldwide