Churchill Commemorative Coin and ¼ oz Gold Krugerrand Set
Issued by The South African Mint in honour of Sir Winston Churchill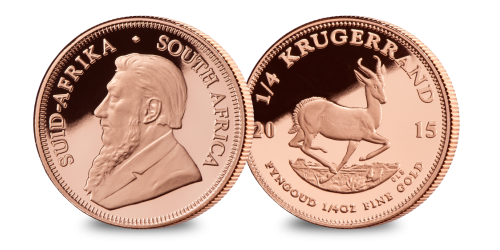 1/4 oz. Gold Krugerrand with Churchill Silver Medal
A coin and medal set which commemorates Winston Churchill and his service in South Africa
Combines one of the world's finest gold bullion coins with a stunning silver commemorative
An official issue struck by the South African Mint
22 carat gold 1/4 Ounce Krugerrand struck in proof quality.
Presented in a beautiful wooden box.
Type:

Single

Availability:

Sold Out!
Notify me when the product will be available.
The South African Krugerrand was introduced in 1967 and it was one of the first gold bullion coins to be produced. Its success inspired many other countries to mint their own gold bullion coins, including the Gold Maple Lead, the American Gold Eagle and the British Britannia. The Krugerrand was also a legal tender coin – consequently, it was minted using a 22 carat gold allow to ensure its durability. The name 'Krugerrand' derives from the Boer leader Paul Kruger who is depicted on the coin's obverse. Kruger was president of the South African Republic between 1883 and 1902 and was honoured on the Krugerrand coin.
Accompanying this special edition ¼ oz. gold Krugerrand is a sterling silver commemorative medal featuring a portrait of a young Churchill in the uniform of the South African Light Horse Regiment with mounted troops in the background, commemorating Churchill's connection to South Africa. He covered the Boer conflict as a war correspondent in 1899 and was captured by enemy forces soon after his arrival. He became a famous figure back in Britain when he escaped from a Prisoner of War camp in Pretoria. This experience helped him get a step up on the political ladder.
Specifications
Issuing Authority:

The South African Mint

Quality:

Proof

Year of issue:

2015

¼ oz. Krugerrand :

Gold (22 carat)

Weight:

8.482 grams

Diameter:

22.00mm

Churchill Medal:

1 oz Sterling Silver

Medal Diameter:

38.725mm

Medal Weight:

33.626 grams