Queen Elizabeth II 90th Birthday Commemorative Coin Set
The definitive set of Her Majesty's portraits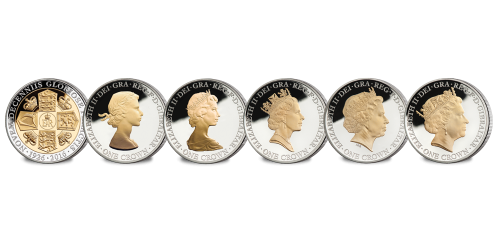 Queen Elizabeth II 90th Birthday Crown Coin Set
A celebration of Her Majesty's portraits from 1953 to 2016, her 90th birthday year
Features the 90th Birthday effigy by the brilliant Raphael Maklouf.
Layered in pure silver and accented in 24 carat gold
Struck to proof quality
Officially approved by Buckingham Palace
Type:

Single

Availability:

Low
Price: £ 139.75
Since 1953, the Queen's image has adorned British coinage in a beautiful series of portraits that mark her journey to becoming Britain's longest and oldest reigning monarch. Issued a celebration on nine decades gloriously accomplished this stunning set of five Silver layered Crown coins features each of these portraits accented in pure 24 carat Gold
The first crown being the Mary Gillick portrait, 1952-1967 which is the only uncrowned portrait of Queen Elizabeth II. The twenty-six year old Queen is shown facing right (the opposite way to her predecessor), bare-shouldered, adorned with a simple classical laurel wreath ties with a ribbon.
The Second Portrait by Arnold Machin, 1968-1984 is the first decimal portrait introduced with the advent of decimal currency. Her Majesty wears the beautiful diamond Girls of Great Britain and Ireland tiara given to her as a wedding present in 1947 by her grandmother Queen Mary. Raphael David Maklouf created the third portrait 1985-1997 which is the first couped portrait showing a regal and ageless Queen wearing earrings and a necklace and crowned with the Royal Diamond Diadem often seen at the State opening of Parliament.
The penultimate portrait, 1998-2015 by Ian-Rank Broadley is the longest serving effigy of Her Majesty and it shows a large headed, couped portrait of a mature and regal, seventy year old Queen once more wearing the Girls of Great Britain and Ireland Tiara.
The final crown in the set is another created by Raphael Maklouf – a new effigy created as a tribute to the Queen's ninetieth birthday. The portrait shows a relaxed looking Queen, a smile playing about her lips, wearing the Diadem and earring familiar from his earlier portrait.
Specifications
Metal:

Layered in pure silver and accented in pure Gold

Quality:

Proof

Weight:

28.28grams

Diameter:

38.6mm

Country of issue:

Gibraltar

Denomination:

One Crown

Year of issue:

2016

Mintage limit:

24,999