Queen Victoria Veiled Head Maundy Coin Set
Genuine Silver Maundy coins over 100 years old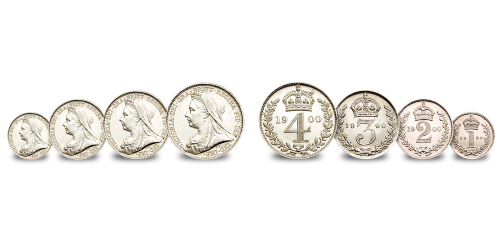 Queen Victoria Veiled Head Maundy coins 1893-1901
An exceptional and rare series in the history of British coinage
Struck in Sterling Silver
Genuine historic Maundy coins
Maximum mintage is just 11,928 sets of this type.
Type:

Single

Availability:

Sold Out!
Notify me when the product will be available.
There exists a series of British coins you may have never heard about, most probably have never seen, and almost certainly will never have held in your own hands. They belong to a tradition that dates back over 1,000 years and they are produced for the personal use of the British monarch - these coins are known as The Royal Maundy.
For well over six centuries each year on Easter Thursday the reigning King or Queen takes part in a ceremony in which gifts of money are handed out to a number of deserving men
and women, equal to the age of the monarch. From the reign of Queen Victoria to Queen Elizabeth II seven portraits have appeared on the Royal Maundy Coins. 
This set is the Queen Victoria Veiled Portrait issued between 1893 and 1901. The obverse designed by Sir Thomas Brock shows the Veiled Head Portrait of Queen Victoria - it is singular amongst her coinage because, for the first time, the design carries in the obverse legend the title of Empress of India, some say at the request of Victoria herself.
The Reverse designs by Leonard Charles Wyon have remained unchanged since the time of Queen Victoria - these deigns still feature on today's Maundy coins of Queen Elizabeth II.
The maximum mintage of sets of this type is just 11,928
Specifications
Metal:

Silver

Quality:

Circulated

Diameter:

18mm - 11mm

Country of issue:

United Kingdom

Denomination:

Fourpence - Penny

Year of issue:

1893 - 1901

Mintage limit:

11,928 sets of this type