The 2016 three coin Krugerrand Fractional Set
The half, quarter and tenth ounce Krugerrands featuring The Queen's 90th birthday privy mark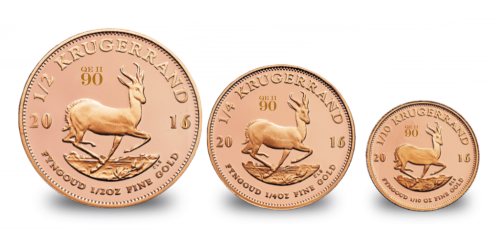 The 2016 Krugerrand Fractional Set with Queen's 90th birthday privy mark
For the first time ever the South African Mint has issued special edition Krugerrands to celebrate a Royal birthday.
Featuring a 'One Year Only' Queen Elizabeth II 90 privy mark.
Set of Three Fractional Krugerrands- each struck in 22 carat gold and to proof quality
Comes with signed Certificate of Authenticity by Tumi Teshlo – The South African Mint Managing Director
Only 260 sets available worldwide!
Type:

Single

Availability:

Sold Out!
Notify me when the product will be available.
Gold coins have always personified the ultimate in wealth and prestige, and for collectors, no other metal can match the quality and luster of coins struck in fine gold.
Not only does 2016 celebrate the 50th year of the striking of the Krugerrand, but also the 90th birthday of Her Majesty Queen Elizabeth II. South Africa, as a member of the Commonwealth, wishes to pay tribute to the Queen and celebrate her 90th birthday by issuing this limited edition Krugerrand set which features a 'QEII 90' mint mark on the reverse of each coin.
The obverse depicts the same bust of President Paul Kruger which appeared on the obverse of the Zuid Afrikaansche Republiek's currency coins issued in 1892. As this design was used on the original gold coins, it was decided to continue with it on the new Krugerrand. The design on the reverse depicts a prancing springbok, South Africa's national animal and a well-known South African symbol, originally designed and engraved by the famous South African sculptor Coert Steynberg.
Specifications
Metal:

22 carat gold (916/1000)

Issuing Authority:

The South African Mint

Denominations:

½ oz. | ¼ oz. | 1/10 oz. Krugerrands

Diameter:

27.00mm| 22.00mm| 16.50mm

Weight:

16.965 grams 8.482 grams 3.393 grams

Year of Issue:

2016

Limitation:

260 sets issued
Denomination
½ oz. Krugerrand
¼ oz. Krugerrand
1/10 oz. Krugerrand
Metal
Gold (22 carat)
Gold (22 carat)
Gold (22 carat)
Quality
Proof
Proof
Proof
Diameter
27.00mm
22.00mm
16.50mm
Weight
16.965 grams
8.482 grams
3.393 grams
Issuing Authority
The South African Mint
Year of Issue
2016
2016
2016