The 2016 Platinum Noble Set
Her Majesty's 90th birthday commemorated in the world's most precious metal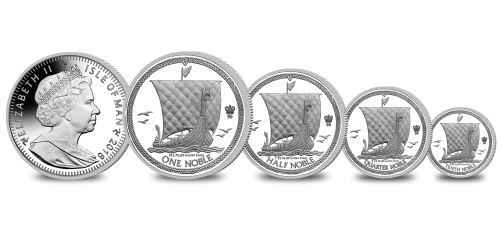 Sold Out!
The Queen Elizabeth II 90th birthday Mint Mark Platinum Noble Set
The first Platinum Noble Coins ever produced in honour of a British monarch
Struck in platinum - the world's most precious metal and to proof standard
A majestic commemoration of the 90th birthday of Her Majesty The Queen in 2016
Full set of Noble denominations -available exclusively from The London Mint Office
Type:

Single

Availability:

Sold Out!
Notify me when the product will be available.
The Queen Elizabeth II 90th Birthday Platinum Noble Set has been released by the Government of the Isle of Man to mark an occasion that is unprecedented in the history of British royalty. On 21st April 2016, Her Majesty the Queen became the first British monarch ever to reach the age of 90.
The Isle of Man Noble, or 'Manx,' - the first Platinum bullion coin created for investors.
Struck in platinum to proof standard each of the coins in this set features a unique 'One Year Only'  90th Birthday mint mark. This aesthetically outstanding revival of one of the nation's most ancient denominations is a majestic tribute to Her Majesty The Queen on her 90th birthday 
As well as being the only noble coins issued to celebrate the Queen's 90th birthday, these are also the first noble coins ever produced in honour of a British monarch. The coins' design echoes the classic 'Noble' design , with a ship at its centre.Featured is a Viking longship called the Thusly, reflecting the Isle of Man's Scandinavian heritage.The obverse design features a royal portrait by Ian Rank- Broadley FRBS that has been approved by Buckingham Palace. It also carries a special 90th birthday mint mark. 
A strictly limited edition set - only 90 one-ounce Nobles issued worldwide
This set comprises four coins  - the 1/10 ounce, 1/4 ounce, 1/2 ounce and 1 ounce Noble. Not all sizes are issued every year, which makes this set highly collectable.  Whilst Nobles are legal tender they do not carry a face value - just like the gold Krugerrand, they are legal tender to the value of their precious metal content, the 1-ounce coin contains 1 ounce of platinum, the quarter ounce 1/4 of an ounce.  Combined together this set contains 1.85 ounces of platinum. 
Platinum is even rarer than gold and traditionally symbolises love and endurance. The release of this set in platinum underlines the significance of the Queen's 90th birthday milestone. A popular purchase for serious platinum collectors around the world and a powerful addition to any coin portfolio.
Specifications
Issuing Authority :

Isle of Man

Year of Issue:

2016

Metal:

9995 Fine Platinum

Obverse:

Her Majesty Queen Elizabeth II by Ian Rank-Broadley

Reverse :

A Legendary Viking longboat

Diameter:

32.70mm | 27.00mm | 22.00mm |16.50mm

Weight:

31.103g | 15.55g | 7.77g | 3.11g