The Battle of Atlantic Sovereign Set
issued in tribute to the British Merchant Navy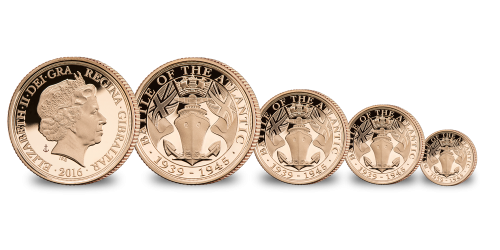 The Battle of Atlantic Sovereign Set
The first ever Gold Sovereign Set issued in tribute to the British Merchant Navy.
Just 100 sets issued worldwide
This spectacular set comprises the complete sovereign family - a quarter, half, full and double sovereign, each struck to proof quality and in solid 22 carat gold.
'One Year Only' type - each coin bears the unique Merchant Navy Mint Mark.
Type:

Single

Availability:

Sold Out!
Notify me when the product will be available.
The Merchant Navy is often referred to as the 'Fourth Service', but it has also become the forgotten service, with the huge contribution of the merchant fleet during the war too often overlooked and undervalued. The thousands of merchant seafarers who made up the 'Fourth Service' during the war are our 'unsung heroes' – their heroism and the sacrifices largely unreported and uncelebrated. The London Mint Office is proud to change this.
Struck to Proof quality, in 22 carat Gold, this set of four gold coins is minted in honour and remembrance of all those who served in Britain's Merchant Navy during the war years. Comprising the full family of gold sovereigns - a double, a full, a half and a quarter Gold Sovereign - only 100 of these sets are being issued worldwide.
Approved by Buckingham Palace and officially endorsed by the Merchant Navy Association, the reverse design features a beautiful depiction of one of the U.S. built Liberty Ships that helped change the face of the war. The obverse also holds the Official Battle of the Atlantic Merchant Navy Association Anchor privy mark.
The set is presented in a presentation pack with documents from the archives of Merchant Navy veteran Ron Quested, who has exclusively shared his wartime records and photographs. Painstakingly reproduced in an informative presentation pack these accompany each set, offering a real insight into what life was like aboard the Liberty Ships at this dangerous time.
Specifications
Metal:

.9126 - 22 carat gold

Diameters:

13.50mm | 19.30mm | 22.05 mm | 28.40mm

Weight:

1.99g | 3.99g | 7.98g | 15.97g

Quality:

Proof

Issuing Authority:

The Government of Gibraltar

Edition Limit:

100 sets worldwide