The Great Recoinage Fractional Gold Guinea Set
A set of three brand new Guinea coins struck 200 years after they were withdrawn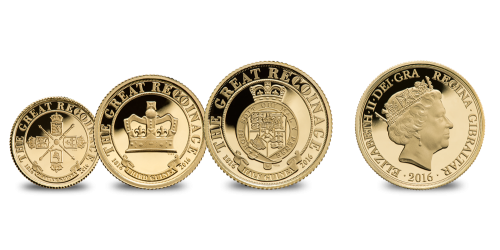 The Great Recoinage Fractional Set
The first ever Guinea fractional set to commemorate the Great Recoinage 200th Anniversary
Comprises three brand new Guinea denominations - the ¼, ⅓ and ½ Guinea struck in Proof Quality
Struck on the day of the Anniversary – 22nd June 2016
Solid 22 carat gold
Limited edition - just 2,016 sets
Special VIGO mint mark on every Guinea
Type:

Single

Availability:

Sold Out!
Notify me when the product will be available.
On 22 June 1816, Britain's coinage changed forever with The 'Great Recoinage'. It was the Government's attempt to re-stabilise the currency of Great Britain following economic difficulties caused by both the French Revolutionary and Napoleonic Wars. Master of the Mint, William Wellesley-Pole was chosen to execute the reform. He recalled all earlier issued coins and issued new coinage. Across the country, centres were opened to undertake this massive task, and in just two weeks our coinage was reformed.
Gone forever was the glorious Guinea
In 1816, The Guinea, one of our most famous gold coins that had been introduced in 1663 by King Charles II was taken out of circulation. The public had to exchange their Guineas worth 21 shillings for the new (but lower value) 20 shilling Sovereigns, making the Treasury a fortune.
Minted to mark the 200th Anniversary of the Great Recoinage in 2016, this fractional set is comprised of a ¼ Guinea, ⅓ Guinea and a ½ Guinea and sees a new denomination of guinea being issued 200 years after the Guinea's withdrawal.
Each coin on this set includes a VIGO mint mark in tribute to the most famous and valuable Guinea coin – The 1703 Queen Anne VIGO 5 Guinea. So called because of their VIGO privy mark denoting the coins were struck from gold captured from the Spanish bullion fleet. Fittingly today these 200th Anniversary 2016 fractional Guineas are struck in Gibraltar.
During its history the Guinea was one of the most widely traded British gold coins, so much so that its legacy survived well into the 20th century used as payment terms for lawyers, in horse racing and in the sale of livestock.
Specifications
Metal:

22 carat gold

Quality:

Proof

Denomination:

¼ Guinea, ⅓ Guinea and ½ Guinea

Weight:

2.1g | 2.8g | 4.2g

Diameter:

16mm | 17mm | 21mm

Country of issue:

Gibraltar

Year of issue:

2016

Mintage limit:

2,016