One of the Greatest Speeches Ever Made – Reproduced in 24 Carat Gold for the First Time
At 3.00PM on May 13th 1940 Winston Churchill stood in the House of Commons and delivered his first speech as Prime Minister.  In a few brilliant words he outlined his policy to "wage war against a monstrous tyranny" and achieve "victory at all costs".  He also invited Parliament to support him, famously declaring "I have nothing to offer but blood, toil, tears and sweat".
His words came to define the bulldog determination and spirit of Britain during the darkest days of the Second World War.  For the first time, the complete text of his iconic speech has been beautifully engraved onto a sheet of pure 24 carat gold. It is presented as part of a highly sought after Coin and Polymer banknote set as a fitting tribute to one of the greatest Britons of all time.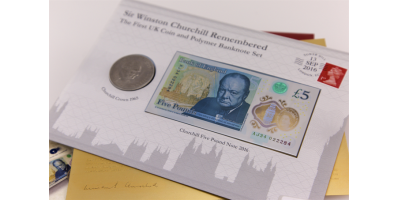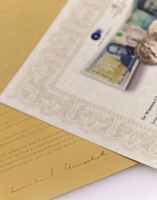 This exclusive four-piece set is yours to own forever for only £99.95
"Blood, toil tears and sweat" – Churchill's famous speech exquisitely reproduced on 24 carat gold for the first time
A pristine, uncirculated £5 (which references this speech) encapsulated in a printed blister card that contains fascinating facts about the new banknote and its famous subject.
An original 1965 Churchill crown; the first time a non-royal had ever featured on a circulating coin alongside the monarch. 
A bespoke printed and stamped envelope bearing a London Tower Hill postmark, marking the day the Bank of England issued the new polymer banknote, 13 September 2016.
Below details are given first for the 1965 Churchill Crown | then the Churchill £5 Banknote | and lastly the copy of Churchills first speech.
Specifications
Metal:

Cupronickel | Polymer | 24 carat gold foil

Weight:

28.28g | 0.7g

Diameter:

38.61mm | 125 x 65mm | 148 x 210 mm

Issuing Authority:

United Kingdom

Denomination:

Five Shillings | Five Pounds

Year of issue:

1965 | 13/09/16 | 13/05/1940