Longest Reigning Monarch Gold Quarter Sovereign
Struck in 22 carat gold - just 2,015 issued worldwide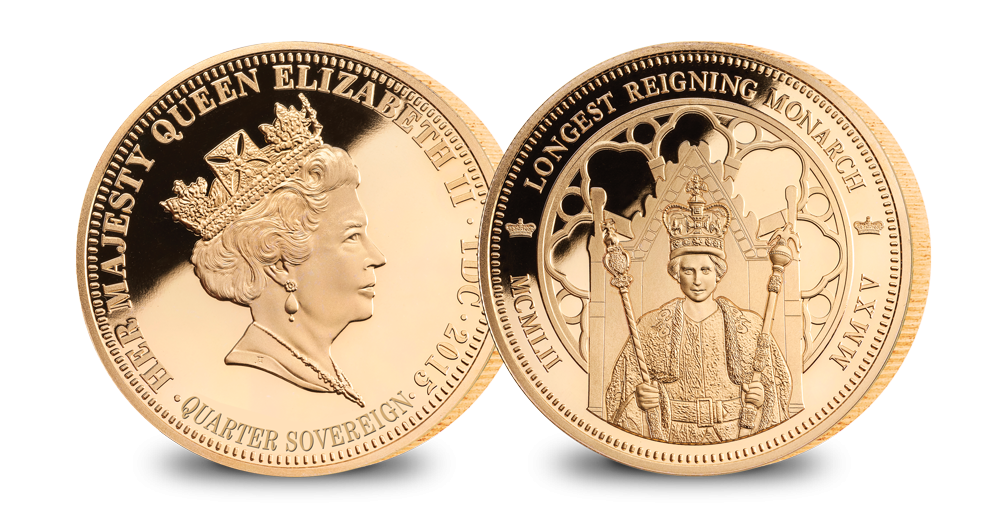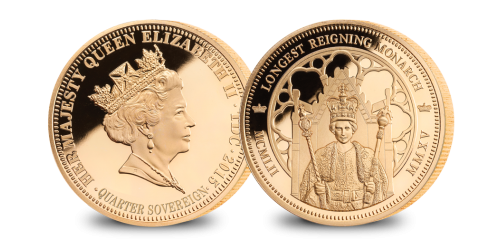 Sold Out!
Longest Reigning Monarch Gold Quarter Sovereign
22 Carat Gold
Limited Edition 2,015 Worldwide
Proof - highest quality
Free presentation box with Certificate of Authenticity
Type:

Single

Availability:

Sold Out!
Notify me when the product will be available.
In over 1,000 years of the British monarchy, only two monarchs have ever exceeded 60 years of reign - Queen Victoria and her great-great-granddaughter, our own Queen Elizabeth II. In 2015, we were privileged to witness the momentous occasion when Her Majesty had surpassed her formidable predecessor to become the longest reigning monarch in British history. This is a once-in-a-lifetime moment - in fact, it is entirely possible that it may never happen again!
To mark this momentous event, The London Mint Office are proud to announce The Longest Reigning Monarch Gold 1/4 Sovereign. Struck in solid 22 carat gold, the traditional purity for British sovereigns, and to the highest possible Proof quality, it honours Queen Elizabeth II in the year that she became our nation's longest reigning monarch.
The design of this issue echoes that of the first ever sovereign minted. Her Majesty is shown enthroned upon King Edward's Coronation chair holding the Royal and Rod of Equity and Mercy sceptres. The rose window of Westminster Abbey lies within the background and roman numerals represent the year in which Her Majesty became the longest reigning monarch MCMLII - MMXV (1952 - 2015)
This Gold Quarter Sovereign is a majestic tribute to Her Majesty the Queen on reaching such a significant royal milestone.
Specifications
Metal:

.916 22 carat gold

Quality:

Proof - the highest quality possible

Weight:

2 g

Diameter:

14.00 mm

Country of issue:

Tristan da Cunha

Denomination:

Quarter Sovereign

Year of issue:

2015

Mintage limit:

2,015 worldwide