Wellington 250 Quarter Sovereign
Wellington 250 Quarter Sovereign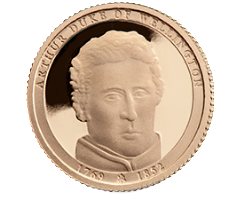 Wellington 250 Quarter Sovereign
·       In the 250th anniversary year of the birth of Arthur Wellesley, the 1st Duke of Wellington new Quarter Sovereign has been struck to commemorate the life of this British hero.
·       Struck in pure 22-Carat Gold to the highest Proof quality
·       A celebration of the life of the Duke of Wellington, A true British icon that changed the nation.
Type:

Single

Availability:

Low
Price: £ 249
Arthur Wellesley, born in Dublin on May 1st 1769, Wellesley was destined to become one of the greatest figures in Military History
He quickly distinguished himself as a superb tactician and strategist on the battlefield and after winning accolades in Flanders
In 1803 he secured a major victory at Assaye when his six thousand men overcame a much larger force.
During his return voyage in 1805 he stopped briefly at the small island of Saint Helena, and stayed in the building that his great nemesis Napoleon would occupy at the start of his exile ten years later.
The new Duke became Britain's ambassador to France to help redraw the political map of Europe. With Napoleon Bonaparte rebuilding his army in France,  Wellington accepted the position of Commander-in-Chief of the British forces and secured a decisive victory at the Battle of Waterloo, which finally ended the Napoleonic Wars that had ravaged Europe.
Napoleon was permanently exiled to Saint Helena.
Specifications
Metal:

22 Carat Gold

Quality:

Proof

Weight:

1.99g

Diameter:

13.50mm

Issuing Authority:

Saint Helena

Denomination:

Quarter Sovereign

Year of issue:

2019

Mintage limit:

2,019