Be one of only 150 in the UK to own this exclusive set
Order the First Coin Today for Just £99
A coin set worthy of The Collector himself, The London Mint Office is proud to present the official Guardians of the Galaxy Vol.2 coin collection, featuring everyone's favourite band of "like-minded misfits", that are truly out of this world.
Month by month, collect and build your team that will become the Galaxy's greatest protectors, whether it's to display in your Knowhere or as a gift for your very own baby Groot, this is a collection of five gems even Thanos would be envious of.
The collection will be more sought after than an infinity stone, so secure your Rocket Raccoon coin today!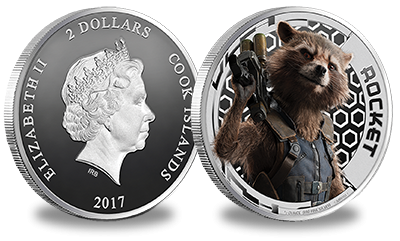 Next, receive another Guardian every month until you can completely Guard our Galaxy (£99 per coin per month with stacks of free gifts to indulge in).
This collection is packed with free gifts, your first coin comes with the official Guardians logo on a pin badge – exclusive to this collection. Take a sneak peak at what is coming within your set.
Specifications
Metal:

Silver

Purity:

.999

Weight:

1/2 Troy Ounce Each Coin (5 Total)

Issue Limit:

Only 3000 in the Galaxy

Quality/Grade:

Ultra High Relief

Diameter:

38.6mm

Year of issue:

2017

Denomination:

$2 (Each Coin)

Country of Issue:

Cook Islands
Securing Rocket today for just £99 also guarantees you access the all the remaining Guardians. Each of the remaining four coins will be delivered to you every month for £99 and free postage. 
You are Groot!