The Official Winston Churchill Inspiration to a Nation Coin
Uniquely Numbered, limited edition and layered in Rose Gold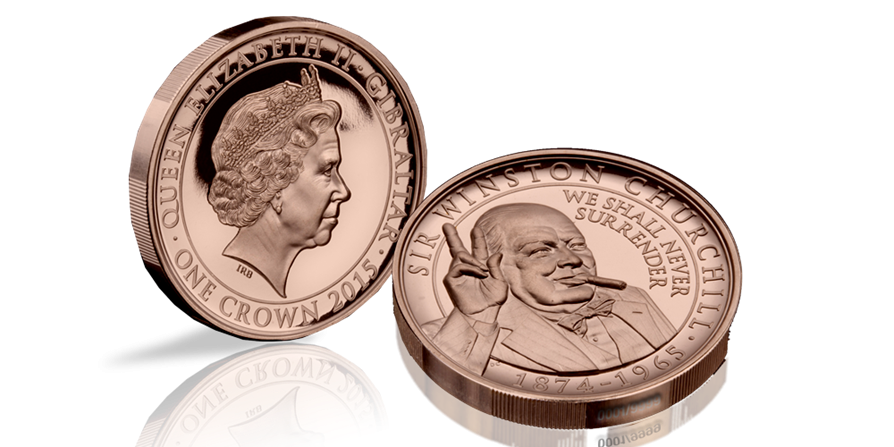 The Winston Churchill Inspiration to a Nation Coin
Layered in Rose Gold, has been struck in honour of our nation's greatest statesman
Only 49,999 coins are available worldwide and each coin is individually numbered
Your coin is completely unique to you - the only coin in the world with that number
Type:

Single

Availability:

Low
Price: £ 29.95
'The right to guide the course of world history is the noblest prize of victory… I hope—indeed I pray—that we shall not be found unworthy of our victory if after toil and tribulation it is granted to us'.
Winston S. Churchill (20 August 1940)
To honour the great statesman's inspirational oratory and courageous leadership, the Winston Churchill Inspiration to a Nation Coin showcases a stunning portrait of Churchill together with one of his most stirring phrases that galvanised the nation during her darkest hour.
The Winston Churchill Commemorative Coin features his defiant 'V' for victory signal, alongside the quote: "We shall never surrender". It formed part of his stirring address to the House of Commons on June 4th 1940, where he warned of potential invasion attempts by the Nazis: "We shall fight on the beaches, we shall fight on the landing grounds, we shall fight in the fields and in the streets, we shall fight in the hills; we shall never surrender". The speech has been acknowledged as one of the defining moments of the Second World War by the Greatest Briton of all time.
You may own this coin for just £29.95. It has been individually numbered, ensuring that it is completely unique to you. It has been fully layered in Rose Gold and struck to Brilliant Uncirculated Quality.
Specifications
Metal:

Bronze - Layered in Rose Gold

Quality:

Brilliant Uncirculated

Weight:

28.28 grams

Diameter:

36mm

Issuing Authority:

The Government of Gibraltar

Denomination:

One Crown

Year of issue:

2015

Mintage limit:

49,999