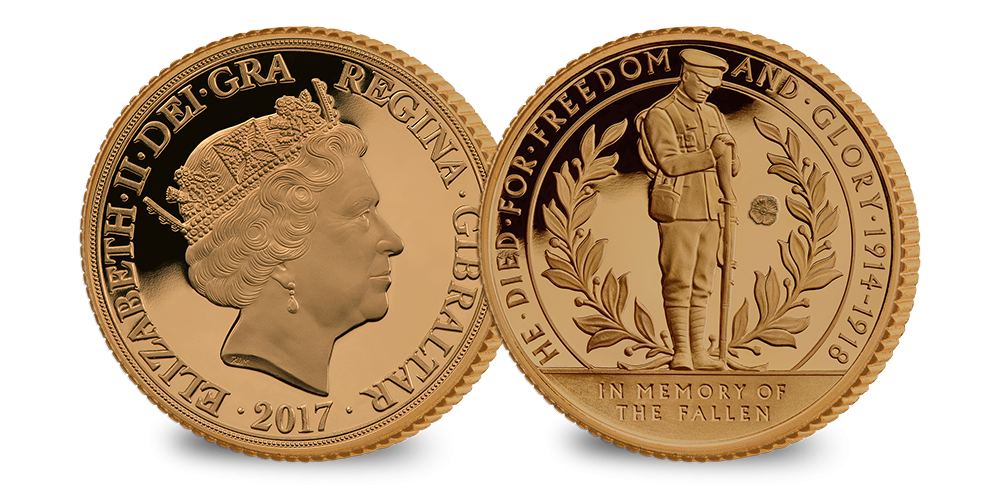 Sold Out!
Remembrance 2017 - Full Sovereign SOD
Struck to the highest quality - Proof
Commemorating those who sacrificed their lives for King an country
Type:

Single

Availability:

Sold Out!
Notify me when the product will be available.
Every year the nation comes together at the eleventh hour of the eleventh day of the eleventh month for two minutes of silent contemplation. Many will choose to reflect on the brave members of the British armed forces who have given their lives protecting the freedoms that we enjoy today.
The 2017 struck-on-the-day Sovereign is struck to the highest Proof quality and pays tribute to the act of Remembrance and to the debt of gratitude we owe to our fallen servicemen, both in the First World War and in the conflicts that have come after it. It features a special hand hammered poppy privy mark and the inscription 'He died for freedom and glory 1914-1918', which takes its inspiration from the WW1 memorial plaques.
In the centennial year of the third battle of Ypres and also the 35th anniversary of the Falklands Conflict, the remembrance commemorations hold a particular poignancy, and so to mark our nation's gratitude to British servicemen and women, we have invited Simon Weston CBE to personally oversee the striking of the new sovereign in London on Armistice Day, November 11th 2017.
Simon was severely wounded on the Sir Galahad and has gone on to become an inspirational author and tireless charity campaigner. Simon will be striking coins at the eleventh hour of the eleventh day of the eleventh month as the nation comes together to remember our fallen heroes. 
Sovereigns struck on Armistice Day by Simon Weston will be strictly limited and are likely to become highly collectible – just 200 will be struck on the day, which means that a very small number of customers worldwide will ever have the opportunity to add this special coin to their collection.
Included with your Remembrance Sovereign is a 127 page hardback book that provides a fascinating insight into the Great War and a certificate of authenticity signed by Simon Weston CBE that confirms the coin's struck-on-the-day privilege. Also enclosed is a small vial containing poppy seeds from Flanders field, allowing you the opportunity to grow your very own emblem of remembrance.
Specifications
Metal:

Gold

Quality:

Proof

Weight:

7.98

Diameter:

22.05

Issuing Authority:

Gibraltar

Year of issue:

2017

Mintage limit:

1,917