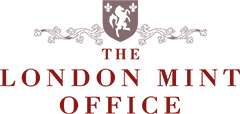 PRIVILEGED ISSUE
APPLICATION FORM
Archival coin issue: The National Emblems
Britannia Penny, available FREE, pay just £2.50 P&P

To: The London Mint Office New Issues Department
As an established customer of The London Mint Office, the person herein is entitled to reserve the National Emblems Britannia Penny FREE, paying just £2.50 P&P, a guaranteed saving of the entire release price of £39.95. Applicants should complete and return the coupon below. No payment is needed at this stage.
Reservation
THE LONDON MINT OFFICE HEREBY CONFIRMS THAT:
THE COIN IS LAYERED IN PURE 24 CARAT GOLD AND BRITANNIA IS ACCENTED IN RHODIUM-PLATINUM, THE WORLD'S MOST VALUABLE PRECIOUS METAL.
FURTHER COINS CELEBRATING OUR NATIONAL EMBLEMS AND THE CHANGING FACE OF OUR NATIONAL COINAGE WILL BE RELEASED BY THE LONDON MINT OFFICE AND ALONG WITH THENATIONAL EMBLEMS BRITANNIA PENNY SUCCESSFUL APPLICANTS WILL BE SENT THE NEXT COIN IN THE CHANGING FACE OF BRITAIN'S COINAGE NATIONAL EMBLEMS EDITION, THE Portcullis Threepence , AT THE PRIVILEGED PRICE OF JUST £39.95 (PLUS £2.95 P&P) TO VIEW ON APPROVAL. IT TOO WILL BE LAYERED WITH PURE 24 CARAT GOLD AND HAVE ITS DESIGN DETAILS ACCENTED IN RHODIUMPLATINUM. FURTHER COINS WILL ALSO BE SENT AT THE PRIVILEGED PRICE AND ALWAYS ON APPROVAL, AND WITHOUT ANY OBLIGATION.
APPLICANTS ARE FREE TO CANCEL OR RETURN ANY COIN WITHIN 30 DAYS OF RECEIPT.
ONLY ONE APPLICATION PER HOUSEHOLD. UK MAINLAND HOUSEHOLDS ONLY
APPLICANTS MUST BE 18 YEARS OR OVER.
Processing confirmaiton - for official use only