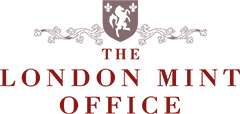 PRIVILEGED ISSUE
APPLICATION FORM
THE WORLD'S FIRST SILVER SOVEREIGN – FOREVER THE FIRST
AVAILABLE NOW FOR JUST £10, FREE P&P

To: The London Mint Office New Issues Department
As an established customer of The London Mint Office, the person herein is entitled to reserve a 2019 Silver Sovereign First Strike, for the fantastic price of £10 (FREE P&P). Applicants should complete the application form below. No payment is needed at this stage.
Reservation
THE LONDON MINT OFFICE HEREBY CONFIRMS THAT:
THE COIN IS STRUCK IN PURE .999 SILVER FOR THE FIRST TIME IN THE COIN'S HISTORY.
APPLICANTS ARE FREE TO CANCEL THEIR APPLICATION AT ANY TIME.
UPON SUCCESSFUL APPLICATION, THE APPLICANT'S PURCHASE IS PROTECTED BY THE LONDON MINT OFFICE 14 DAY 'NO QUIBBLE' GUARANTEE.
APPLICANTS HAVE NO FURTHER COMMITMENTS
UK MAINLAND HOUSEHOLDS ONLY
APPLICANTS MUST BE 18 YEARS OR OVER.
YOU ARE UNDER NO OBLIGATION.
Processing confirmaiton - for official use only