The Waterloo Medal layered in 24 carat Gold
After a wait of 200 years Pistrucci's masterpiece finally realised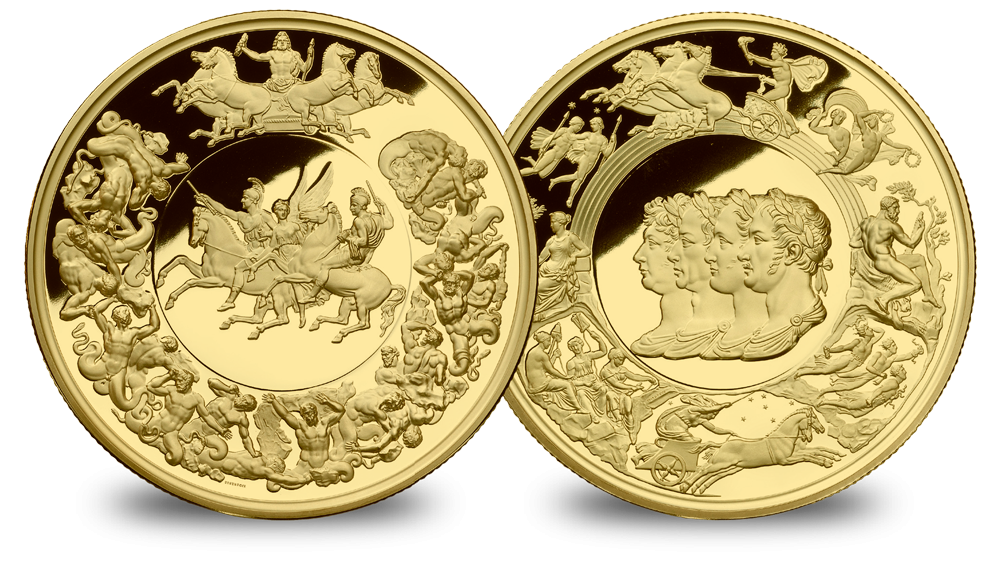 Sold Out!
Waterloo Giant Medal layered in 24 carat Gold
The Waterloo Medal - over 30 years of hard work, and a wait of 200 years Pistrucci's masterpiece is finally realised.
A 19th-century numismatic masterpiece by Benedetto Pistrucci
Limited Edition - only 5,000
Each medal is individually numbered
Layered in 24 carat gold
Struck in high relief to the highest quality
Type:

Single

Availability:

Sold Out!
Notify me when the product will be available.
After the epic battle of Waterloo in 1815 the Duke of Wellington decided that a true numismatic masterpiece - a gold medal of 'the highest artistic merit' should be created as a gift for the Allied sovereigns who defeated Napoleon. The world-renowned engraver, Benedetto Pistrucci, was given the task of designing the medal.
It took Pistrucci more than 30 years to complete his intricate design of the Waterloo Medal. The sheer size and the intricate detailing of the medal proved too complex and too large to realise with the technology that was available at the time. By the time Pistrucci announced the reasons for not being able to produce the medals, all the intended recipients, except Wellington, were dead and the Waterloo Medal was never actually struck.
Today, nearly 200 years later this commemorative has at last been struck.
Worcestershire Medal Service, medallists to Her Majesty Queen Elizabeth II, have recreated Benedetto Pistrucci's masterpiece with the depth needed for his extraordinary design.
The medal is struck adhering to their uncompromising quality standards, ensuring that every detail of Pistrucci's legendary design is faithfully reproduced.
Struck in bronze and minted in the highest possible proof-like quality, the official Waterloo 200 Medal is layered in pure 24 carat Gold. Each medal is individually numbered ensuring that no two medals are the same
Specifications
Artist:

Benedetto Pistrucci

Metal:

Layered in 24 carat Gold

Quality:

Struck in high relief to the highest proof quality

Weight:

400 grams

Diameter:

88.9 mm

Country of issue:

United Kingdom

Year of issue:

2015

Mintage limit:

5,000