The Wild West Set
Historic originals that capture the pioneering spirit of America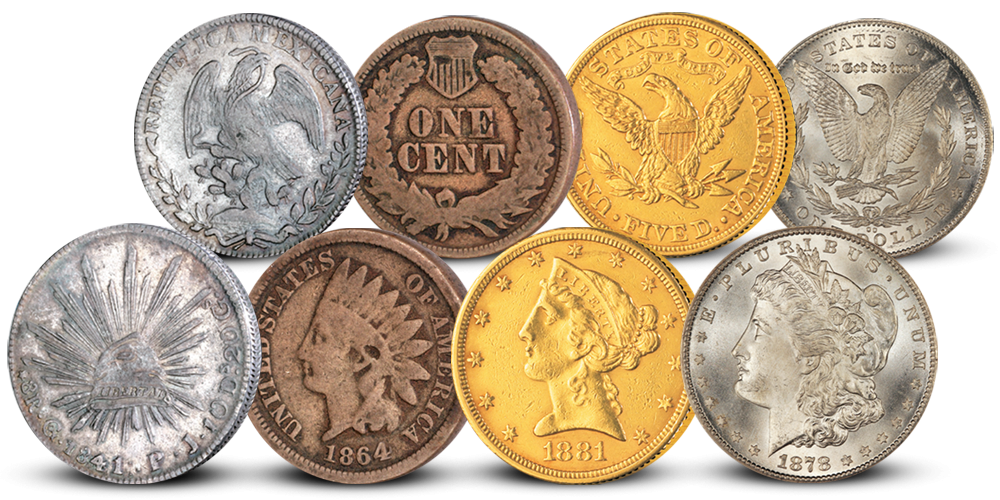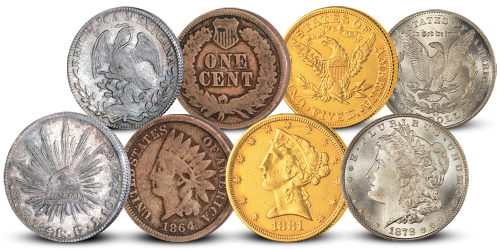 The Wild West Set
Four highly significant and historic coins from the 1800s
A unique set that captures the pioneering spirit of the Wild West and the Gold Rush
Includes Liberty Head, Morgan Silver Dollar, Mexican Liberated and Indian Head Cent
Type:

Single

Availability:

Low
Price: £ 990
The coins in this collection belong to the rough-and-ready days of the Wild West, a time of cowboys and Native Americans, of saloons and gambling parlours, of sheriffs and outlaws, of gold miners, trappers, and explorers
The Wild West Set contains four very significant coins from the 1800s. It tells a story from around the time of the California Gold Rush in 1849.
In the states with the resources to mine gold and silver, and the influx of gold in California, a considerably higher amount of gold coins were being struck along with some silver coins, mainly the Liberty head $5 and the Morgan Silver Dollar. These were used in areas of wealth, however, in the poorer areas they would use the bronze cent coins and also the Mexican Libertad as their main currency due to the lack of finer gold and silver American coins.
 The four coins in this set are: 
Liberty Head $5: Christian Gobrecht 1839-1908 - the 'American Dream' coin
The Morgan Silver Dollar: George T. Morgan 1878-1904 -  the original 'cowboy' coin.
The Mexican Libertad – 8 reales 1824-1897 - the 'outlaw dollar'
The Indian Head Cent: James B. Longacre 1859-1909 -  the 'Native American' coin
A unique memento of a time in America's history when frontiersmen searched for fame, fortune, a time of adventure, danger, and seemingly endless possibilities.
Specifications
THE MORGAN DOLLAR :

SILVER (0.900) 26.73g 38.10mm 1878–1893

$5 LIBERTY HEAD :

GOLD (0.900) 8.24g 21.65mm 1866–1908

INDIAN HEAD CENT :

BRONZE 3.11G 19.00mm 1864–1909

MEXICAN 8 REALES:

SILVER (0.903) 27.07g 38.00mm
The Morgan Dollar  -  the cowboy dollar. No coin reflects America's Western Frontier history better than the silver Morgan Dollar, which has been called the 'king of American coins'. This iconic coin was first minted in 1878 and was colloquially known as a 'cartwheel' because of its impressive size (38.1mm) and weight (26.7g). Morgan Dollars circulated widely throughout the American West.  ISSUING YEAR: 1878–1893    METAL: Silver (0.900)    WEIGHT: 26.73g    DIAMETER: 38.10mm    MINT: Carson City (CC)    DESIGNER: George T. Morgan     EDGE: Reeded
$5 Liberty Head  -  the 'American Dream' coin. Introduced in 1839, the elegant $5 Liberty Head was one of the earliest gold coins to be struck in the United States. In 1866 the reverse of the coin was updated to include the motto, IN GOD WE TRUST, which appears on a banner above the eagle.  The same year of the first daylight bank robbery in US history carried out by Jesse James and his gang at the Clay County Savings Association Bank, Missouri. A stash of gold coins – the ultimate symbol of the American Dream – was among the loot stolen from the bank.  ISSUING YEARS: 1866–1908 METAL: Gold (0.900) WEIGHT: 8.24g  DIAMETER: 21.65mm  MINT: Philadelphia, New Orleans (O), San Francisco (S),Carson City (CC), Denver (D) DESIGN: Liberty Head (type 2)  DESIGNER: Christian Gobrecht  EDGE: Reeded
Mexican 8 Reales -  the 'outlaw dollar'. The Mexican 8 reales, based on the Spanish Dollar, is also known as a 'piece-of-eight' . The coin was adopted as legal tender alongside the new US dollar. These coins would have circulated widely throughout the Wild West up until 1857 when their legal tender status was revoked. The 8 reales coin included in this set was issued under the First Mexican Republic (1823–1864) and carries a highly symbolic design: the obverse depicts a Mexica legend concerning the foundation of Mexico City, while the Cap of Liberty on the reverse celebrates Mexico's independence from Spain, achieved in 1821. ISSUING YEARS: 1824–1897  COUNTRY: Mexico  DENOMINATION: 8 reales   METAL: Silver (0.903)   WEIGHT: 27.07g DIAMETER: 38.00mm   MINT: Various Mexican mints    OBVERSE: Eagle standing with open wings, snake in mouth; REPUBLICA MEXICANA REVERSE: Liberty cap within rays; denomination (8 R); mintmark; date; 10D. 20G
The Indian Head Cent -  the 'Native American' coin. First introduced in 1864, at a time when the westward expansion was in full flow. These small bronze coins were an important part of the daily monetary transactions over the whole American continent, including the Wild West. It is considered by many to be one of the most beautiful of all US small coins. It was designed by James Barton Longacre, Chief Engraver at the Philadelphia Mint between 1844 and 1869. According to a popular rumour, James Longacre used his daughter, Sarah, as a model for the portrait on the obverse. ISSUING YEARS: 1864–1909 (type 3) DENOMINATION: 1 cent METAL: Bronze WEIGHT: 3.11g DIAMETER: 19.00mm MINT: Philadelphia, San Francisco (S) DESIGN: Indian Head DESIGNER: James Barton Longacre EDGE: Plain