The Salvator Mundi "Saviour of the World" 6 Silver Coin Set
Da Vinci's Masterpiece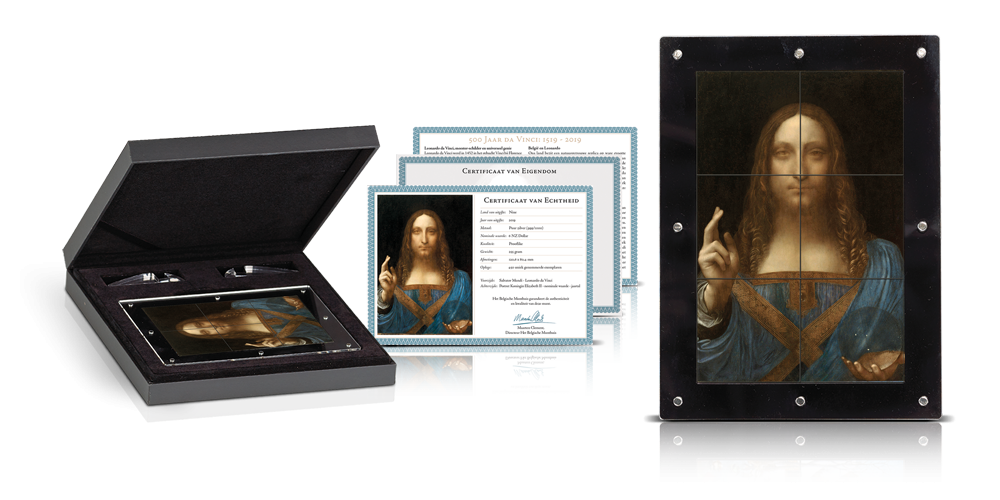 Sold Out!
Da Vinci's Masterpiece - Salvator Mundi
Limited to just 450 sets worldwide!
Over 8 ounces of pure Silver
Featuring the world's most expensive painting
Type:

Single

Availability:

Sold Out!
Notify me when the product will be available.
If you had £360 million to spend on whatever you wanted, what would you buy? Perhaps your own yacht? Or maybe a private island? What about a priceless masterpiece dating over 500 years old?
In 2017 at a New York auction, the painting Salvator Mundi sold for an astonishing €450.3 million (£361.9 million), setting a brand new world record as the most expensive painting ever sold!
Its origins shrouded in mystery for decades, Salvator Mundi, depicting the image of Jesus, would attract even more curiosity. Following its record-breaking sale, the painting seemingly DISAPPEARED, its whereabouts now unknown for almost two years…
In the 500th anniversary of the death of Leonardo Da Vinci - the artist famously credited with the painting's creation, you can now own the Salvator Mundi Silver Coin Set, uniquely numbered and struck in an impressive 8 ounces of pure Silver!
Specifications
Metal:

Pure Silver (999/1000)

Quality:

Prooflike

Weight:

8oz (255grams)

Size:

120.6 x 80.4mm

Denomination:

6 NZ Dollars

Year of issue:

2019

Edition Limit:

450 uniquely numbered copies