Star Trek: Mirror Mirror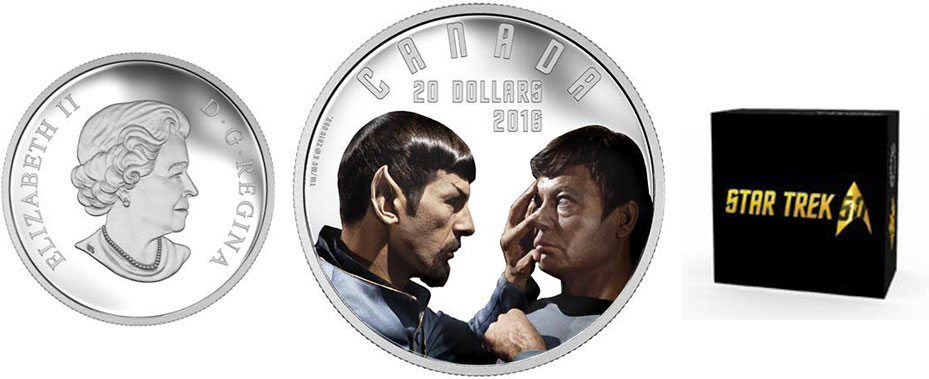 Star Trek: Mirror Mirror
Star Trek Themed Coin 
Second of 3 coins in series
Custom Collectors Display Pack
1-ounce, 99.99% pure silver coin!
Type:

Single

Availability:

Available
Price £ 99
Part of the Royal Canadian Mint's celebration of the 50th anniversary of Star Trek—a television series that is beloved by generations of people, and whose vision of the future helped inspire innovation in our time!
Second of three fine silver coins to feature a pivotal scene from some of the most beloved Star Trek episodes of all time!
Past, present and (fictional) future meet in an exciting design: Cutting-edge engraving and finishing technologies bring the selectively coloured image to life, while the Star Trek font adds an authentic vintage feel!
Subscribe today to guarantee you get all three coins!
Your purchase is protected by The London Mint Office 14 day "no quibble" return guarantee.
 You have no further obligation.

| | | |
| --- | --- | --- |
| | | |
| 100% Satisfaction Guaranteed | Quality & Authenticity Guaranteed | No further purchase obligations |
Specifications
Metal:

99.99% pure silver

Mintage:

11,500

Denomination:

$20

Weight:

31.39g

Size:

67mm x 67mm

Edge:

Serrated

Diameter (mm):

38

Packaging:

Graphic beauty box
DESIGN
The reverse design recreates a key scene from the memorable 1967 Star Trek episode. Selective colour enhances the engraved image of an alternate version of Mr. Spock (portrayed by Leonard Nimoy) performing a Vulcan mind meld on Dr. Leonard "Bones" McCoy (portrayed by DeForest Kelley). McCoy bears a fearful expression while Spock sports an uncharacteristic goatee and altered uniform—evidence that the away team is in a mirror universe where their fellow crewmembers are behaving very differently.s The Guardian of Forever.