The Battle of Hastings Tapestry Edition is a stunning set of two fantastic pieces, commemorating the Battle of Hastings.  Each piece bears a reference to one of the world's most famous objects – the Bayeux Tapestry.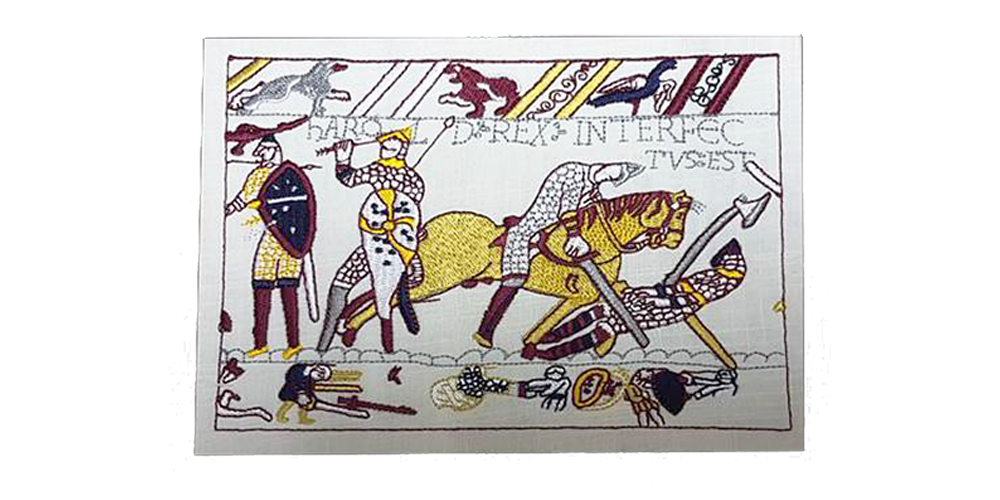 The set contains a giant 61mm medal.  Struck in solid bronze, with an antique finish, the medal depicts William the Conquer on horseback, based on his statue from Falaise, France.  The reverse depicts scenes from the Bayeux Tapestry in relief, behind two depictions of original pennies, struck by William the Conqueror and King Harold – the kinds which would have circulated at the time.
The famous scene from the Bayeux Tapestry, featuring the death of King Harold at Hastings, has been recreated in embroidered fabric.  Harold was famously killed by an arrow in the eye – clearly shown on this piece.  This tapestry miniature is one of a limited number, created exclusively for this set.
The Battle of Hastings medal and tapestry embroidery come presented in a solid wooden display case.
Specifications
Metal:

Bronze

Finish:

Antique

Diameter:

61mm

Year of issue:

2016

Special Feature 1:

Battle of Hastings 950th Anniversary Medal

Special Feature 2:

Bespoke embroidery of the Bayeux Tapestry Arrow Scene