An enduring piece of history that is sure to be treasured
Whether you remember the good old pre-decimal days with affection, or are looking to share the fascination of coin collecting with friends, family or even future generations, the Changing Face of British Coinage - Queen Elizabeth II Pre-decimal Edition, is an eternal reminder of the last pre-decimal coinage.
A classic British coin as you have never seen it before - A unique celebration of Britain's heritage
Meticulously crafted, to preserve the memory of our last pre-decimal currency designs, this set enables you to own all nine of our most treasured Elizabeth II British coins, each lavishly plated in 24 carat Gold and accented in glorious colour. Whilst the first coin in the set, the Threepence, was one of our most iconic coins, the Shilling was perhaps one of our most important standard coins. Worth twelve 'old' pence, and with twenty shillings or 'bob' to the pound, the Shilling became the cornerstone of our old currency. Also included in the set are our much loved The Britannia Penny; the 'lucky' Sixpence or 'tanner'; the Ship Ha'penny; Florin or 'two-bob bit' and the Wren Farthing. Minted at the start of Her Majesty's reign, these are coins that, quite literally, belong to a bygone era. Don't miss this opportunity to literally hold a piece of our history in your hands.
Act Now - significant demand expected
There are many reasons this coin layered in 24 carat Gold, will be exceptionally popular. Not only is it an original, it also features the first effigy of the Queen to appear on our coins - as we reflect on Her Majesty's historic reign, nothing could be timelier than owning a genuine coin from the beginning of her time on the throne. The first portrait of the Queen to grace our coinage was the work of Mary Gillick. Gillick was chosen from sixteen other candidates to prepare the new queen's coin portrait. The artist's delight in the young monarch is evident in her simple, uncluttered portrait – the only one to show the Queen without a crown. The youthful portrait of our young Queen perfectly reflected the optimism at the start of a new era in post-war Britain - an era referred to at the time as the New Elizabethan age.
Complete with FREE Presentation Folder
Together with your Thru'penny Bit, you will also receive the official Collector Presentation Folder, which stores and displays your coin safely and elegantly. It includes the Certificate of Authenticity guaranteeing the specifications. Together they provide important historical background information about British heritage coins. Normally £2.95, it is yours FREE of charge.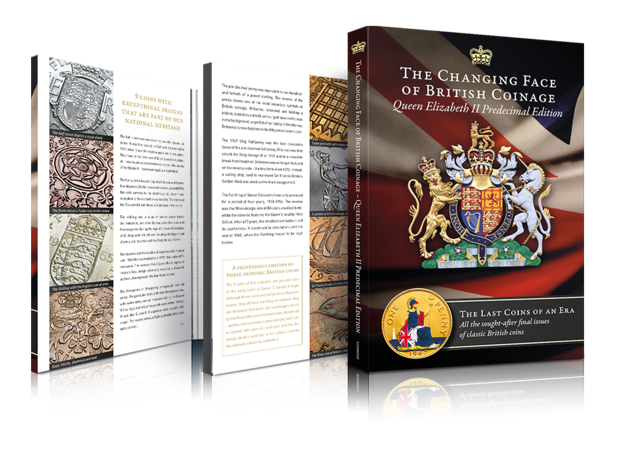 One unfortunate consequence of this exceptional offer is that we expect demand to be substantial, so regrettably there must be a limit of one coin per household. You are among a limited number of The London Mint Office's customers with access to this offer. If you act now you can secure this beautiful coin, the last of its kind, for just £9.95 (P&P is FREE) and SAVE £20.00 today.
I would like to secure a £20.00 saving and order my last-ever Thru'penny Bit for only £9.95.