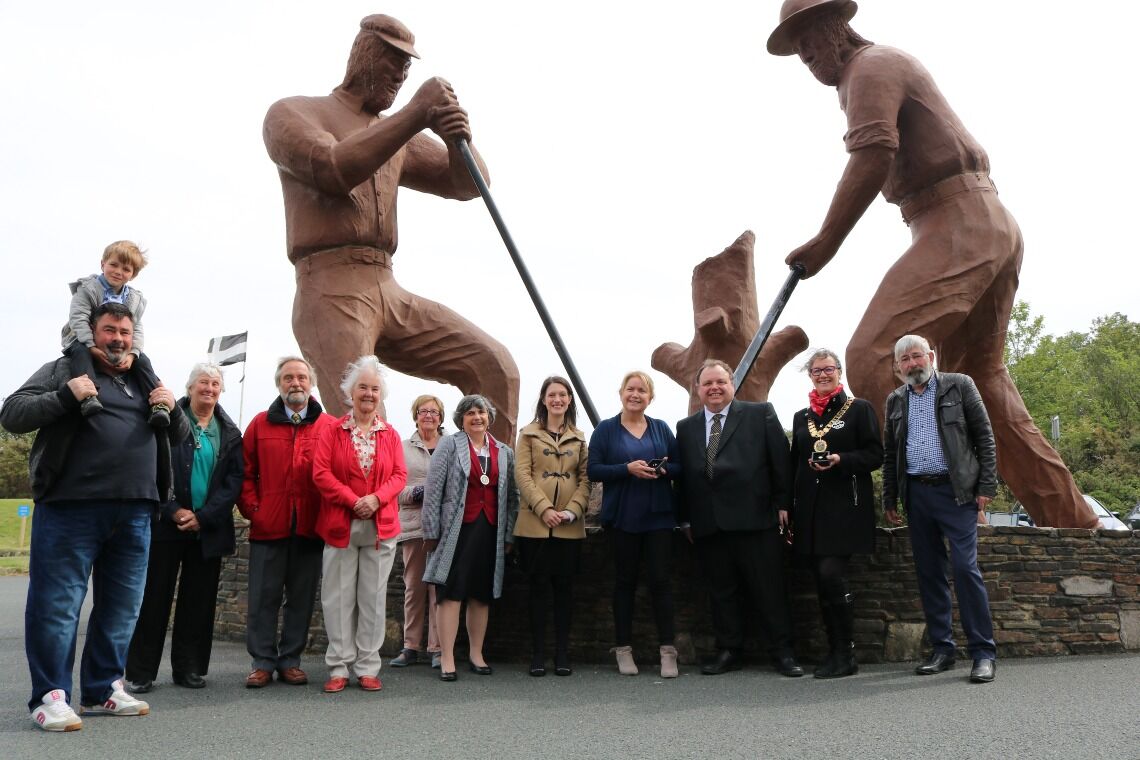 May 16 2019
PRESS RELEASE
THE LONDON MINT OFFICE PRESENTATION TO CORNWALL TO CELEBRATE THE CORNISHMEN WHO FOUND THE WORLD'S LARGEST GOLD NUGGET
This year marks the 150th anniversary of the discovery of the world's largest Gold nugget - the Australian 'Welcome Stranger' - by two Cornishmen, John Deason and Richard Oates. To celebrate, The London Mint Office presented a special coin to Cornwall today – and local descendants of the miners were at Cornwall Gold, Redruth to celebrate.
John Deason's great granddaughter Margaret Harry was joined by his great, great grandson Darrin Ward along with his five-year-old son Eli, the youngest descendant, and Richard Oates was represented by family members Gaynor Hingston (nee Oates) with her son Tim Carter, and Gerry Ellis. They were welcomed by Cllr Deborah Reeve, Mayor of Redruth, along with Justin Robinson, historian at The London Mint Office, and Cornwall Gold Managing Director Dervla Jarratt, and Marketing Manager, Rachel Little.
In 1869 John Deason, born on the island of Tresco in the Isles of Scilly and moved to Pendeen in Cornwall, and Richard Oates from Pendeen discovered the 109.69kg 'Welcome Stranger', the biggest alluvial Gold nugget ever found, near the base of a tree at Moliagul, Victoria in Australia. Because no scales were able to take the weight of the nugget, it had to be broken into three pieces on a blacksmith's anvil.
Cornwall Gold near Redruth, located in Cornwall's mining landscape, home to Tolgus Tin Mill, specially commissioned a commemorative statue as a celebration of the pair's discovery, and this is where the event took place on Thursday.
The coin is struck by Perth Mint in Australia, and was presented to the Mayor of Redruth, Cllr. Deborah Reeve.  Historian and Research Manager of The London Mint Office, Justin Robinson said: "It is a privilege to celebrate this monumental historic discovery by two Cornishmen 150 years on with the descendants of the founders, who were able to join us at this special event. This beautiful coin, struck in Australia where the discovery was made, is a fantastic celebration of such history, and we are really pleased to be able to make this donation to Cornwall." 
Gaynor Hingston said: "We're delighted that The London Mint Office are marking the 150th anniversary of the discovery of the 'Welcome Stranger'.  My father, Raymond Oates (1915-2004) often talked about our ancestor, Richard Oates, who had found the largest alluvial gold nugget in Australia and we are so pleased that the story is being brought to life again. The commemorative coin is a lovely way to pay homage to this monumental historic discovery and to the two Cornishmen who found it. "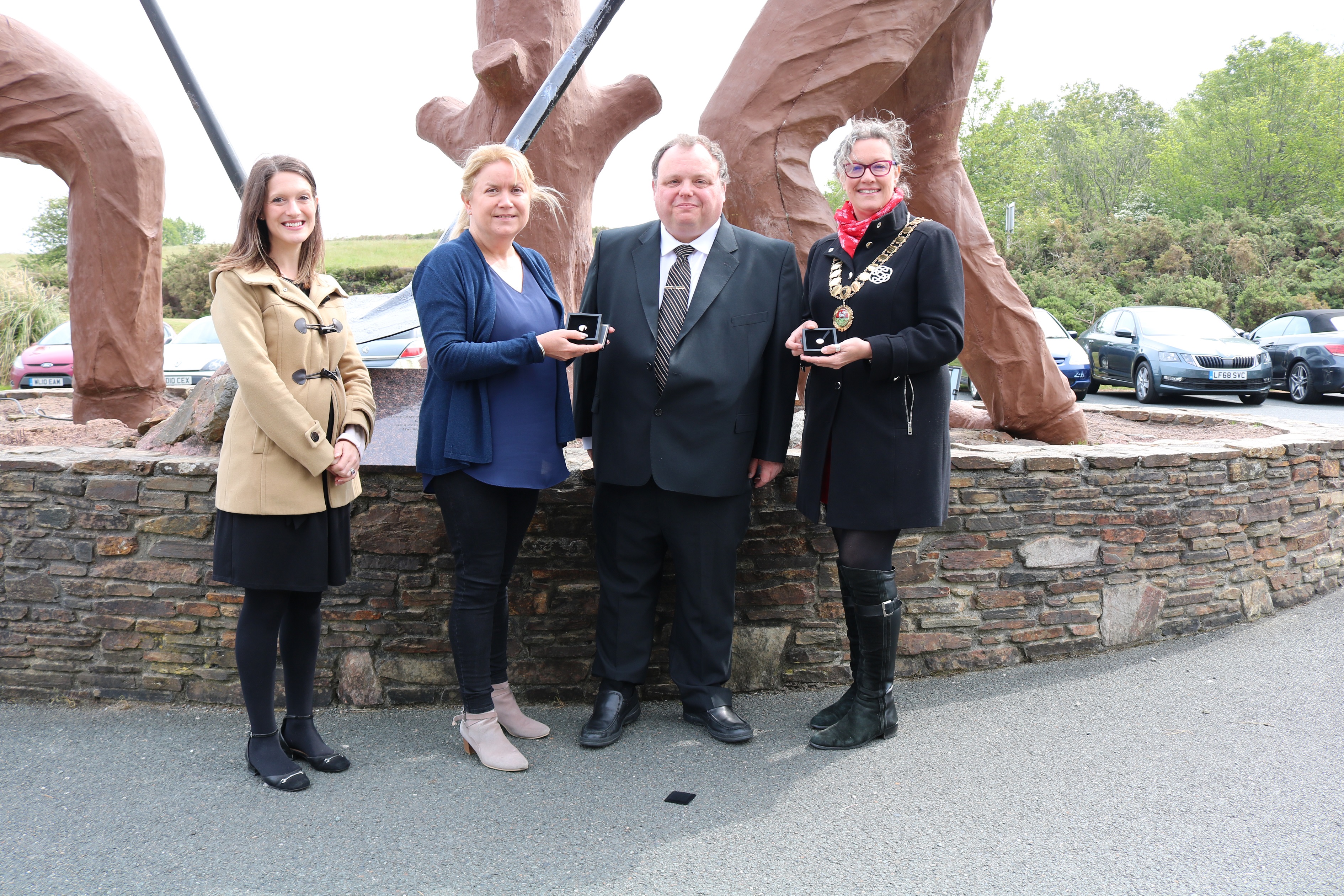 Cllr Deborah Reeve, Mayor of Redruth said: "It seems fitting that Redruth, which is the heart of Cornish Mining, has been the location for today's celebration. It has been my great privilege to meet the descendants of these two renowned Cornish miners, and I am honoured to have been presented with this wonderful, specially minted commemorative coin. On behalf of Redruth Town Council and all the people of Redruth I would like to thank everyone that has contributed to today's event." 
Deason and Oates were both recorded in the 1851 census as workers in the Cornish tin mines, emigrating to Australia a few years later to become prospectors, or 'diggers' as they were known. It took a few years for the pair to strike gold, but when they did, it was an enormous piece of gold encased in quartz, buried just below the surface.  It was so big, that as Mr Deason wrote: "I tried to prise the nugget up with the pick but the handle broke. I then got a crowbar and raised the nugget to the surface".
Cornwall Gold Marketing Manager Rachel Little said: "We are delighted to host this wonderful celebration of 150 years since this remarkable discovery. The finding by two Cornish miners celebrates Cornwall's mining heritage and expertise, something at the heart of who we are at Cornwall Gold and Tolgus Tin Mill. Our mill is the last working Victorian tin mill in the county, a piece of Cornish heritage that we are proud to maintain and provide for visitors to explore together with a broader celebration of Cornish life and the mining history from which it thrived. In the past few years we have searched for relatives to Tolgus Tin Mill and are in touch with a number of connections. Going back further to Deason and Oates is just wonderful to rebuild further connections with our history and what this means for those descendants and our knowledge today."
The London Chartered Bank of Australia paid just under £10,000 for the treasure, and the pair were finally paid some £9,381 for the nugget – over £1m at today's prices. They both died in Victoria some years later.
To find out more about the coin: https://www.londonmintoffice.org/welcomestranger
Editor's Notes
The London Mint Office is a trusted and respected partner for a large number of British coin collectors and mints across the world. Gold, silver and other precious metals have fascinated mankind for many centuries, making coin collecting a popular hobby the world over. The London Mint Office is at the centre of British numismatics, bringing the fascinating world of coin collecting to both existing and new collectors. Together with our sister organisations across Europe, The London Mint Office provides a wide range of coins from ancient to modern, originating from virtually every country in the world.
Visit www.londonmintoffice.org for more information.
For further information from The London Mint Office, please contact tim@thinkorchard.com