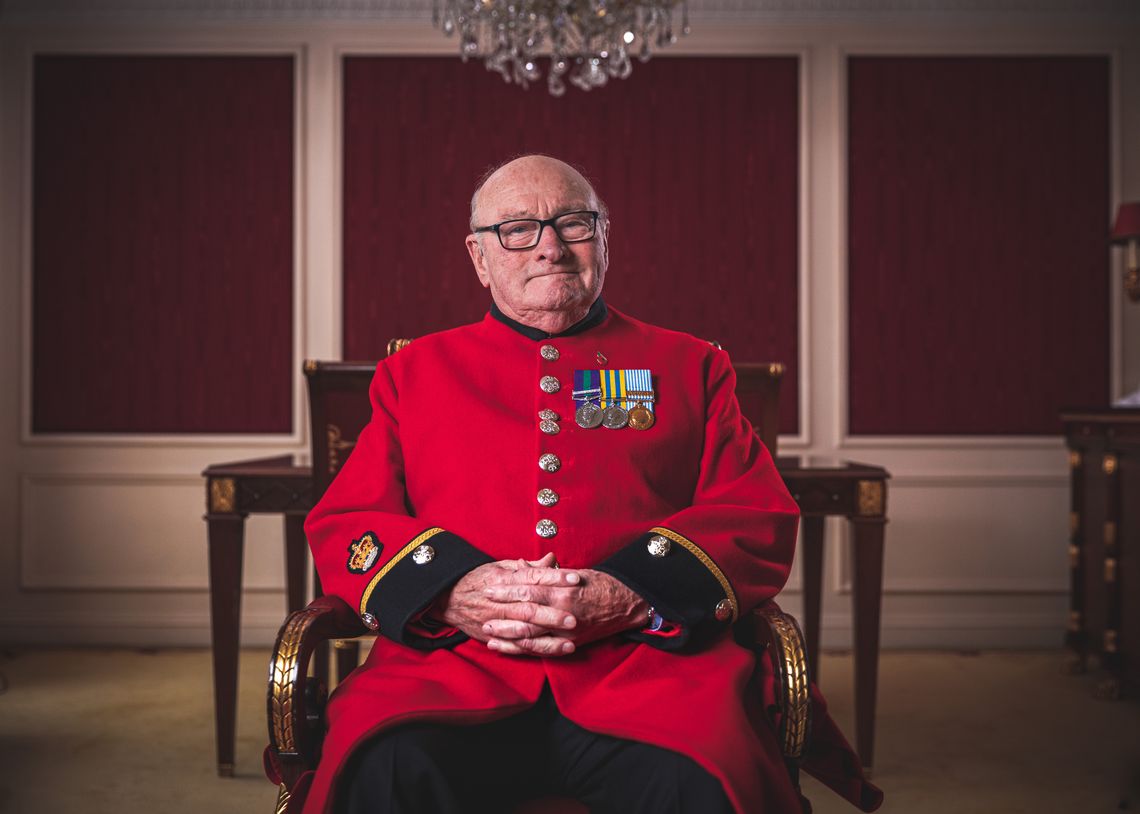 A new documentary about Dame Vera Lynn has landed –
featuring Chelsea Pensioner & BGT 2019 Winner, Colin Thackery
Her portrait will also be housed at the Royal Albert Hall; first piece of new art to hang there in decades
It may be over 75 years since D-Day, yet the horror and heartache of WWII still runs deep. During this time of conflict, it was one singer's voice in particular that reminded troops of home – and continues to give Britain a sense of comfort to this day. That voice belongs to Dame Vera Lynn.  
With her 103rd birthday fast approaching this March, The London Mint Office has released a documentary to celebrate the life and work of 'The Forces' Sweetheart'; titled, 'Dame Vera Lynn: The Voice of a Nation'.
It tells the story of a working-class girl from East London, who – despite not being able to read music – went on to sing for her country and become a wartime icon; now boasting a century in the spotlight.
It's no secret that she was the driving force in bringing memories from Britain to the front line. And, it's with this reason in mind that the documentary sets out to educate of one war hero in particular, whose heart was touched by Dame Vera's wartime anthem, 'We'll Meet Again';
Recalling his time in the Royal Artillery, where he saw service in Malaya and the Korean War, Chelsea Pensioner Colin Thackery remembers,
"Dame Vera was – and is – a beacon of hope. Throughout WWII, she touched the hearts of our nation. British troops would be off to war, parting their loved ones. Very little could actually provide them comfort – but somehow she was this comfort! Not just for troops, but those waving them off, too. Her music was significant for everyone".
"Her songs brought a piece of home to troops during dark times…and, her photo brought a smile or two! Whenever I hear her songs – especially 'We'll Meet Again' – my heart just warms a little bit more".  
Talking of how his life has changed since winning Britain's Got Talent back last year, Colin adds, "I can't believe I sang a duet with her on my latest album. I have sung her songs all my life and still do now at the Royal Hospital! They bring about such a great sense of hope, and always make me incredibly emotional. It was definitely a once-in-a-lifetime opportunity…at the age of eighty-nine!"
With his 90th birthday approaching in March, Colin is the oldest ever winner of Britain's Got Talent – to which he originally entered "for a dare" – and the oldest person in the world to sign a record deal! Back last July, Colin signed a deal with Decca – a label that launched the year he was born, and went on to famously support Dame Vera Lynn from 1938. With Dame Vera and Colin sharing the birthday month of March, a joint celebration must be on the cards!
Speaking of celebrations, Colin will unveil a bespoke portrait of Dame Vera at the Royal Albert Hall next week – alongside the Dame's daughter, Virginia Lewis-Jones. It's the first new piece of artwork to be showcased there in decades, and is set to hang on public display for posterity, for many years to come; allowing visitors to the Hall to get a taste of British musical history.
Back last year, it was announced that acclaimed Norwegian artist, Ross Kolby, had been commissioned to paint Dame Vera's portrait – the aptly-named 'Portrait of a Nation – after famously painting a whole raft of Norwegian monarchs. He has since captured the Dame in a piece filled with symbols signalling many of her major life events, from during and after the War; which is now ready, after a year of perfecting.
Ross says, "I painted Dame Vera in her very own 102-year-old universe. She's in the centre, like the sun – and has elements pointing to her life surrounding her, floating weightlessly.
"I did a lot of research on her career, and to be honest, it was really hard to drill down into what to include…she's done so much! She still remains incredibly humble, showing how much of a true national treasure she is", he adds.
From a spitfire to the poppy, symbolising Remembrance Day, even to the Burmese jungle and the White Cliffs of Dover, Ross has expertly captured the life and times of Dame Vera Lynn. And, with the night sky displaying the exact stellar constellations that Dame Vera saw whilst entertaining troops in Dimapur, India, on June 6th 1944 – Ross has made sure no opportunities were missed.
Dame Vera explains, "Every time I look at the painting, I see a new detail. Ross has perfectly captured my career in a single picture! Having performed at the Royal Albert Hall more than fifty times over the years, there seems no other perfect home for such an incredibly well-thought-out piece".
Craig Hassall, CEO of the Royal Albert Hall, agrees, "With the venue's 150th anniversary fast approaching in 2021, it's the perfect time to spotlight our unique heritage. As part of those celebrations, we're delighted to unveil the Portrait of a Nation as a tribute to her incredible contribution to our nation".
'Dame Vera Lynn: The Voice of a Nation' gives exclusive access to the Dame's very own home in the Sussex countryside; where her daughter, Virginia Lewis-Jones, talks of her mother's standout moments over the years – with the help from PA and friend, Susan Fleet; in addition to a whole host of famous faces, of course.
Although she's not released new music for a number of years, compilation albums and remasters have kept her music alive – and even saw her become the first centenarian performer to have an album in the charts! Daughter Virginia explains, "We still get letters from all over the world to this day, this many years on. It just goes to show her lasting legacy! In many years to come, I hope she's remembered as a key figure who wanted to help Britain in any way, shape or form".
With Dame Vera's contribution to morale during the war now playing a key role in the National Curriculum for primary schools across the UK, it comes to no surprise that Dame Vera is still as relevant today. In fact, PA Susan says, "We're often told that Dame Vera Lynn's music is played in care homes almost on a daily basis. Her music brings back so many fond memories for many who often struggle to remember their family members. I don't think people realise how much she's done – and continues to do – for everyone".
Talking of her iconic legacy; Justin Robinson, Historian at The London Mint Office, says, "Young or old, British or not – everyone has heard of Dame Vera Lynn. During the darkest days of the war, her warm voice connected people across the world, and encouraged them to dream of a better tomorrow.  She continues to inspire hope for many through her tireless philanthropic work for children with cerebral palsy.
"Her timeless music, reminding us that love and peace will always triumph over tyranny and oppression, is just as important to people facing an uncertain future in the world today", Justin adds.
And, to give all generations a chance to hold onto a snippet of British history, The London Mint Office is set to release a collection of coins dedicated to The Forces' Sweetheart; paying tribute to her most iconic songs. The collection will also include a free 'We'll Meet Again' coin, which you can now register your interest in, here. Dame Vera says, "I've always idolized Her Majesty, for looking after Britain. So, to have such a huge part of my life placed onto a coin, next to the Queen, is remarkable".
'Dame Vera Lynn: The Voice of a Nation' will have its exclusive world premiere at the Royal Albert Hall, on Monday January 13th; giving Dame Vera's family, friends – and a whole host of famous faces – a chance to unite, and celebrate her legacy. From January 14th, the full version will be available for viewing at The London Mint Offices YouTube Channel free of charge.