Charities Set to Benefit from the Queen's Birthday Charity Medal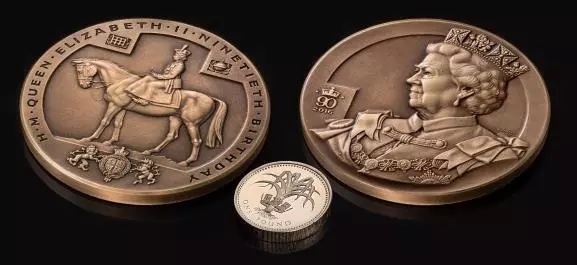 A commemorative medal designed to mark the 90th birthday of The Queen will be raising funds for many of Her Majesty's favourite charitable causes. The Queen's 90th Birthday Commemorative Charity Medal has been issued by The London Mint Office, one of the UK's leading collectable firms, who will be donating all profits from every medal purchased to 76 of the charities for whom the Queen is patron – see attached for a full list of those set to benefit.
The medal is an impressively large 61mm in diameter, minted in solid bronze, and has been designed by eminent sculptor and coin designer Philip Nathan. Nathan is perhaps best known for his signature portrait of Britannia commissioned by for British coinage in the 1980s and used on a number of coins since. He has designed the Queen's 90th Birthday Commemorative Charity Medal in exquisite detail, depicting The Queen on horseback – an image that is long associated with the most significant of royal events on one side - along with a more contemporary 'three quarter' profile of Her Majesty on the obverse.
The medal is available here www.queensmedal.co.uk for £19.95 +p&p and everyone buying a medal will be given the option for the donation against their purchase to be equally split across all 76 charities, or to go to their favourite charity from the list.
James Deeny, CEO at The London Mint Office, comments, "Commemorative medals have long played an important historical role in celebrating major royal landmarks. The Queen has been a tireless supporter of many charities throughout her life so it seems fitting that this commemorative medal will raise money for numerous great causes for which she is a patron, while also creating a beautiful collector's piece to mark this great occasion."
Designer of the medal, Philip Nathan, adds, "I have designed a number of special medals to commemorate historic royal moments, but it has been a particular honour to design The Queen's 90th Birthday Commemorative Charity Medal as she becomes the first British monarch to reach the age of 90."
The medal is also available at www.thequeensbirthdaybook.com, an unique online commemorative book where celebrities and the public around the world are adding their own special birthday messages to The Queen – with the aim of creating a World Record for the world's biggest digital book. The book will be presented in electronic form at Buckingham Palace in July.